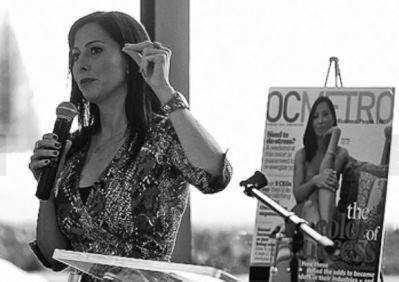 FOR IMMEDIATE RELEASE: September 9, 2014
Contact: Jeff Corless 714-676-8878
O.C. woman co-produces new film, 'Frontera' 
Tina Aldatz didn't anticipate co-producing a movie about illegal immigration and its ramifications on a small border town.
But the successful entrepreneur and Laguna Hills resident couldn't resist once she read the script to "Frontera," which hits theaters Friday in Beverly Hills, New York and Scottsdale, Ariz. The film will be released Sept. 12 in Orange County (AMC Orange 30), Palm Desert and other U.S. locations. It's on demand on cable systems now.
"I felt that this was a story that needed to be told," said Aldatz, 45, who grew up in Buena Park and Fullerton. She also lived in Huntington Beach for six years. "The reason I decided to invest my personal money in this film is because I can relate to so many of the issues that our country is facing. But also because I am half-Mexican."
Aldatz's grandmother, Josefina Diaz, came to California from Chihuahua, Mexico, in the 1920s. Aldatz was raised in a troubled household. Her parents battled drug and alcohol addiction, and the family was often on welfare and receiving housing assistance. Aldatz dropped out of high school and legally emancipated herself when she was 15.
But she matured to become a successful businesswoman, creating the company Foot Petals, which makes insoles for women's shoes. In 2008, Forbes magazine called her an "entrepreneur to watch." Aldatz sold the company for $14 million in 2011…
"At the end of the day, we just have to remember that America is the land of opportunity, and there are very good people that deserve the chance to have the opportunities that I have experienced."
Click here for full article