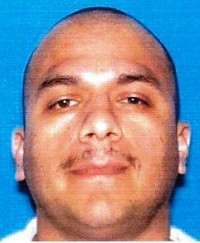 A man initially thought to be in his 20s was killed Tuesday night during a shooting in a Santa Ana neighborhood, police said, according to the O.C. Register.
On 09/09/14, at approximately 6:55 pm, officers were dispatched to a call of a male victim shot in the area of Harwood Place and Cedar Street. Officers located the victim in the 900 block of east Harwood Place. The victim was later identified as Emanuel Nunez (33), resident of the City of Santa Ana. The victim was pronounced deceased at the scene by Orange County Fire Authority Medics, according to the SAPD.
The deceased was identified by police today as Emanuel Nunez, 33, of Santa Ana, according to the OC Weekly.
Homicide Detectives were called to the scene. A preliminary investigation revealed the shooting appeared to be gang related.
Anyone with information on the case is asked to call SAPD Homicide detectives at (714) 245-8390 or Orange County Crime Stoppers at 1-855-TIP-OCCS.
The Santa Ana Police Department is offering a monetary reward for information leading to the arrest of gang homicide or felony gang assault suspects. If you have information about any gang homicide or felony gang assault suspects, please call (714) 245-8390.
Edgar Antonio Ojeda, 24, was shot to death on Sunday, on a sidewalk in the 1400 block of South Center Street, near Diamond Elementary School.
Marcos Bahena, 38, was stabbed in front of his home, on Tuesday morning, in the 1200 block of South Hickory Street. He later died at a hospital.
Santa Ana Councilman David Benavides, who is up for reelection this November, has previously referred to the increase in violence in Santa Ana as an "anomoly."  Does he still hold that opinion?