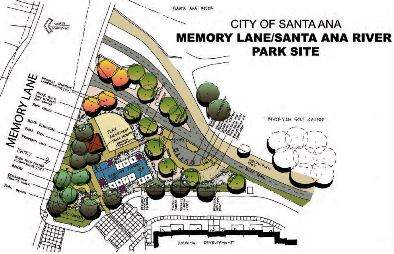 City of Santa Ana
Community Alert: CITY OF SANTA ANA AWARDED ONE MILLION DOLLAR GRANT, UNDER THE HOUSING RELATED PARKS PROGRAM, FOR NEW HALF ACRE PARK
SANTA ANA, CA (August 12, 2014) – The City of Santa Ana has been awarded $1,030,800 grant to develop a 1/2 acre park at Memory Lane and the Santa Ana River, adjacent to the Vista Del Rio Housing Project.
The grant was funded under the Housing Related Parks Program. The program provides funding for parks and recreation projects that benefit the community and add to the quality of life. The program awards funding on a per-bedroom basis for residential units in very low to low-income household. $25 million was available in this funding cycle for projects in the State of California.
The ½ acre property is an undeveloped site that will be developed as a bike rest area with drinking fountains, bike racks, equestrian hitching station, play equipment and shelter, exercise equipment, drought tolerant landscaping, river rock bio-swale, security lighting, decomposed granite walkway and other site amenities.
Construction is estimated to begin in 2016.
###