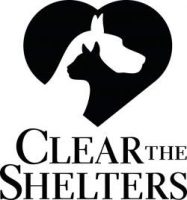 NBC4 SOUTHERN CALIFORNIA AND TELEMUNDO 52 HOST ANNUAL PET ADOPTION DRIVE – CLEAR THE SHELTERS – ON SATURDAY, JULY 23
Stations Team Up with 55 Animal Shelters Across Five Counties to Match Homeless Pets with New Homes at Reduced Adoption Fee
UNIVERSAL CITY, CA – (July 7, 2016) – NBC4 Southern California / KNBC and Telemundo 52 Los Angeles / KVEA will partner with more than 55 animal shelters in hundreds of cities and communities throughout Southern California for its annual Clear the Shelters (Desocupar los Albergues) pet adoption campaign on Saturday, July 23.
This year's Clear the Shelters event comes after last year's highly successful inaugural effort, which resulted in over 2,500 pets finding new homes. On this day of action, participating animal shelters in Southern California will offer a reduced adoption fee of $20, and open their doors from 10 a.m. to 6 p.m.  NBC4 and Telemundo 52, along with several anchors and reporters, will visit select shelters to celebrate with those who adopt.  Additionally, local sponsor VCA Animal Hospitals will have their expert veterinarians and healthcare teams on-site, and all pets adopted during the event will receive a limited health guarantee and a gift bag filled with pet essentials.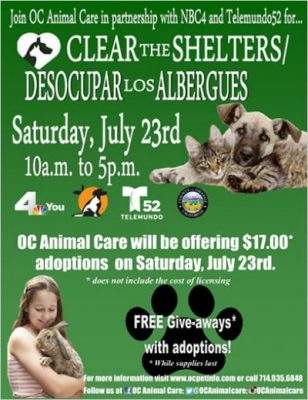 "I'm proud that our stations are working with so many local animal shelters throughout the Southland to help rescue thousands of animals," said NBC4 President and General Manager Steve Carlston.  "This initiative supports an important community cause and mobilizes millions of people who can give a forever home to an animal from a neighborhood shelter."
"This initiative offers the community an opportunity to welcome a new addition to the family and be part of a national day of action," said Telemundo 52 Los Angeles President and General Manager Celia Chavez. "I encourage everyone to join us to help 'Clear the Shelters' and give thousands of homeless animals the chance of a new life."
The public is also invited to attend Clear the Shelters pre-events to preview dozens of animals available for adoption.  The events will take place on Friday, July 15 from 11 a.m. Bring the family to visit with all the adoptable pets at the OC Animal Shelter, located at 561 The City Dr S, in Orange, and take home a "furever" friend at a discounted price!
Events will also be held at Mathis Brothers at 4105 Inland Empire Blvd. in Ontario, Saturday, July 16 from 10 a.m. to 2 p.m. at The Grove located at 189 The Grove Dr. in Los Angeles, and on Sunday, July 17 from 1 p.m. to 6 p.m. at Citadel Outlets at 100 Citadel Dr. in Los Angeles.  Animals featured on both days will be available for adoption at the reduced adoption rate of $20.
Over the next few weeks, NBC4 and Telemundo 52 will air animal-related stories to raise awareness about the pet adoptions as well as issues including the overpopulation of shelters in Southern California.  Moreover, both stations will engage viewers with news and information across multiple platforms, including newscasts, online and social media.
To learn more about the initiative and locate participating shelters, visit nbcla.com/cleartheshelters or telemundo52.com/ desocuparlosalbergues. The public is encouraged to follow the effort and post pet photos on Twitter, Facebook and Instagram with hashtag #ClearTheShelters @NBCLA and #DesocuparLosAlbergues @Telemundo52.
On Friday, July 29 at 7 p.m., NBC4 will air a 30-minute post-adoption drive special hosted by Natalie Morales, NBC News' TODAY West Coast Anchor, and soon-to-be host of Access Hollywood and Access Hollywood Live to recap the success of Clear the Shelters. Telemundo 52 will also air a post-adoption drive special on the same day at 5 p.m. co-hosted by Stephanie Himonidis "Chiquibaby" and Elva Saray, hosts of Telemundo 52 Los Angeles' daily entertainment show, Acceso Total.
The Clear the Shelters (Desocupar los Albergues) initiative spearheaded by the NBCUniversal Owned Television Stations, a division of NBCUniversal, will team up more than 40 local NBC and Telemundo television stations with hundreds of animal shelters from all across the country to find new homes for thousands of homeless pets.  Specifically, 11 NBC-owned stations, 17-owned Telemundo stations, the regional news network necn, and more than 20 NBC affiliate stations will partner with more than 300 animal shelters in more than 30 markets across the United States and Puerto Rico.
In 2015, 20,000 animals were adopted nationwide through an unprecedented partnership between the NBCUniversal Owned Television Stations and hundreds of animal shelters across the country and in Puerto Rico. The nationwide day of action literally emptied dozens of animal shelters across the country and inspired local communities to take action and open their homes to animals in need. Various celebrities and news personalities, including Ellen DeGeneres; Steve Harvey; extra's Mario Lopez; NBC Nightly News anchor Lester Holt; Bravo's Andy Cohen; actress Sarah Michelle Gellar, singer and songwriter Rob Thomas; and Telemundo network stars Carmen Villalobos and Sonya Smith among others, joined in Clear the Shelters' social media effort by posting selfies with their favorite pets.