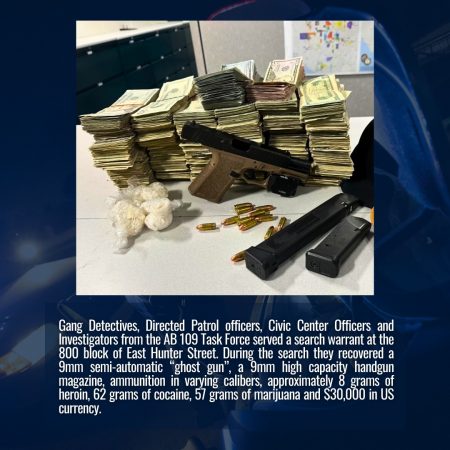 The SAPD announced their latest round of gun seizures, for the first week of July.
SAPD gang detectives, Directed Patrol officers, Civic Center officers and AB 109 Task Force investigators served a search warrant at the 800 block of East Hunter St.
During the search they recovered a 9mm semi-automatics ghost gun, a 9mm high capacity magazine, ammunition in various calibers, approximately 8 grams of heroin, 62 grams of cocaine, 57 grams of marijuana and $30K in U.S. currency.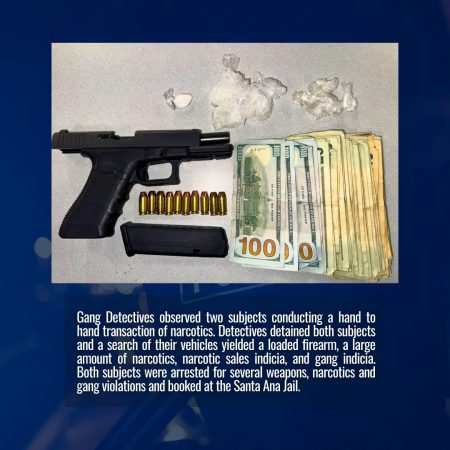 SAPD gang detectives observed two suspects conducting a hand to hand transaction of narcotics.
The detectives detained both subjects and a search of their vehicles yielded a loaded firearm, a large amount of narcotics, narcotic sales indicia and gang indicia.
Both subjects were arrested for several weapons, narcotics and gang violations and they were booked at the Santa Ana Jail.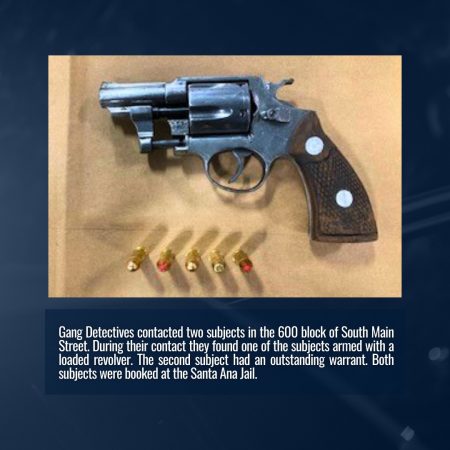 SAPD gang detectives contacted two subjects at the 600 block of South Main St.
During their contact the officers found that one of the subjects was armed with a loaded revolver.
The second subject had an outstanding warrant.
Both suspects were booked at the Santa Ana Jail.