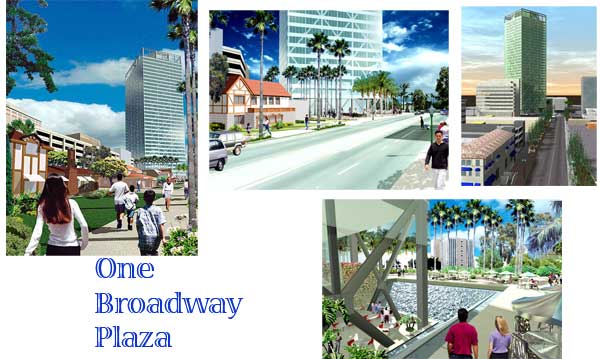 The Santa Ana City Council will be conducting a Public Hearing on Monday, at the end of their Council meeting, regarding the proposed amendments to the developer agreement with Mike Harrah, regarding his One Broadway Plaza project.
Click here to read the Public Hearing Agenda.  Click here to see the entire City Council agenda for Monday's meeting.
The Planning Commission approved the proposed amendments at their meeting on June 14, by a 3-2 vote.  Acosta and Yrarrazaval opposed.  Alderete and Betancourt abstained.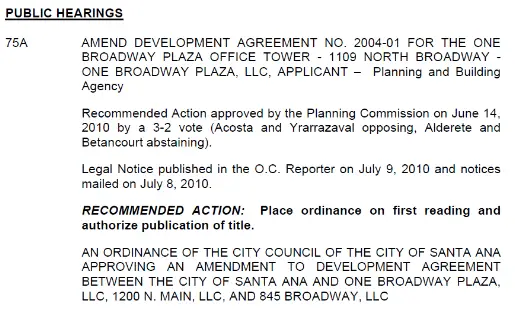 The amendments include:
Deleting the 50% pre-leasing requirement.
Allow Harrah to apply for Redevelopment Funding.
Adust the timing of the funding for neighborhood traffic studies.
Allow additional time to refill any excavated area.
Delete the minimum 51% ownership interest provision.
I am not sure about the redevelopment part of this, but the rest of it isn't unreasonable.  I would however like to see our City Council press for more changes to the Developer Agreement, as follows:
Let's allow Harrah to build condos as well as offices in his tower.  Wouldn't that be neat for executives to finish work and then take the elevator to their condo?
Why not build an observatory on the roof?  Maybe we can get UCI or CSUF to help fund it and manage it.  What a boon it would be to our scientific community!  And what fun for the rest of us.
How about building a public park atop the building?  What a view!
Can we renegotiate the size of this building?  Perhaps 60 floors instead of 88?
This project will bring jobs and economic growth to our city.  I don't mind Harrah bringing in partners and I would love to see him build a mixed-use project instead of offices only.  I don't think he should go down the redevelopment road – but if he wants that money then how about some affordable living units in the tower too?
City staffers are recommending that the City Council approve the amendments.  Their report notes that the project qualifies for LEEDS silver status, which means it will be built to save energy.  The report also states that of the 13 large projects that have been submitted to the City for approval in the past five years, only two have been built – CityPlace and the Skyline Towers.
The City Council meeting will start after a closed session meeting at 5 pm, at Council Chambers, located at 22 Civic Center Plaza.