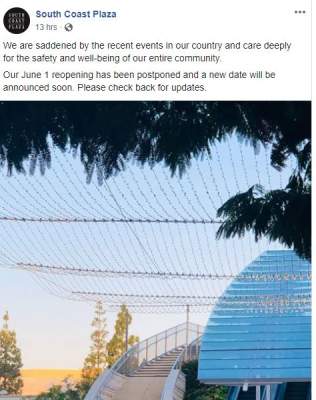 An unnamed protest group has announced that they will be gathering today, June 1, at 8 p.m. at South Coast Drive and Bear St., in Costa Mesa.
That may be a bad idea on their part as the City of Costa Mesa has been enforcing an 8 p.m. curfew. If there are looters planning to attack the South Coast Plaza I can see the Costa Mesa police arresting them by the busload.
In fact the Costa Mesa police just put out a press release about this:
The Costa Mesa Police Department (CMPD) is aware of flyer circulating on social media that mentions a planned protest at South Coast Drive and Bear Street in Costa Mesa today, Monday. The department is monitoring the situation including social media posts and is taking the necessary steps to protect the city, its businesses, and all those in the city. The CMPD is working closely with its law enforcement partners and continues to provide police services to the city while addressing the situation.

While CMPD supports the public's right to peaceably assemble and demonstrate, it does not support vandalism, rioting, and looting. Out of an abundance of caution, the City of Costa Mesa is planning to order another curfew for tonight, Monday, June 1. The City of Costa Mesa and CMPD are committed to keeping its community informed and will share more information on this as it becomes available.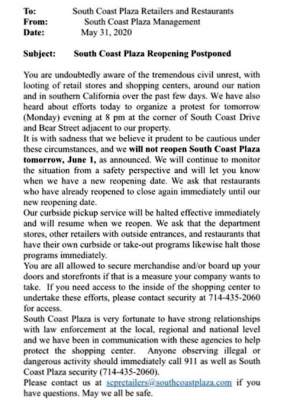 The South Coat Plaza has reacted to this news by announcing "We are saddened by the recent events in our country and care deeply for the safety and well-being of our entire community. Our June 1 reopening has been postponed and a new date will be announced soon. Please check back for updates."
South Coast Plaza was hoping to have at least 110 merchants open but with limited hours and many amenities sidelined to ease shoppers' concerns about coronavirus. California's easing of stay-at-home orders now allows indoor malls to open. The mall closed March 16 after learning a store employee had contracted the virus, according to the O.C. Register.
While the protests are well-intentioned the ensuing riots and looting are now costing our local businesses a fortune in damage and lost sales, on the heels of the still ongoing Coronavirus Pandemic.