If the true measure of a man is how many friends he leaves behind, then Jason "Hoss" Hallstrom was quite a man.  A very large crowd of his friends and family attended a memorial tonight at the Target located at Grand Ave. and 17th St., in Santa Ana.  This was where Hallstrom was shot and killed by officers of the Santa Ana Police Department (SAPD) on March 15, 2013.
Hallstrom's friend of eighteen years, Jeffrey Lowe, drove here all the way from Kingman, Arizona, with his wife. Tonight he led the memorial and at times was almost too choked up to talk.  Tears flowed freely as Hallstrom's associates took turns reminiscing about their departed friend.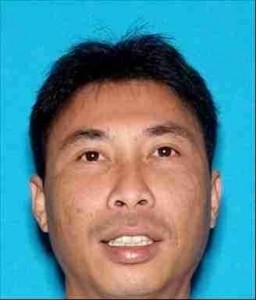 When the SAPD shot and killed another unarmed man, Binh Van Nguyen, earlier this year, the Santa Ana City Council got hammered by the Vietnamese community and quickly called for a town hall meeting.  No one from the City Council showed up tonight. Hallstrom does not represent a voter demographic that our Council cares about.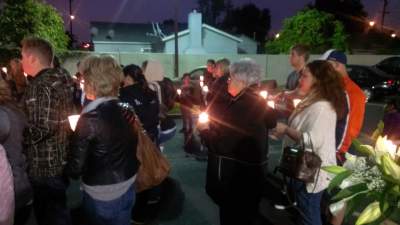 But many people did care about Hallstrom and tonight they had a chance to share those feelings with each other.  They did so by candlelight and the crowd, which included quite a few young people, was very solemn and well behaved.  The SAPD sent a black and white to monitor the memorial .
Lowe and I spoke about his efforts to alert authorities about what happened to Hallstrom.  Lowe had been in touch with the U.S. Attorney General's office.  It is about time that they have a look at the SAPD.  This case just might get the ball rolling.
The police should not be able to execute you just because you run from them.