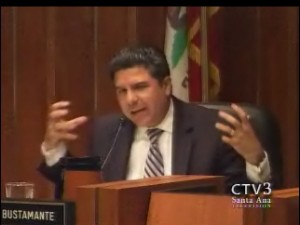 Embattled former Santa Ana City Councilman Carlos Bustamante is busy trying to fight a huge criminal case that has seen him charged with numerous felony sex crimes and public theft. But now he may be fighting another battle, in a different court.
A source tipped me off that Bustamante's wife, Adrianna, apparently filed for a legal separation on March 26, 2013. Attorney Steven P. Dragna is listed as the petitioner's lawyer, according to court records. She filed under her full maiden name of Hilda Adrianna Pichardo.  
According to Bustamante's bio, his wife works for the SAUSD and they have two kids.
Bustamante openly campaigned for his former colleague, David Benavides, last year when Benavides challenged Santa Ana Mayor Miguel Pulido.  But Benavides has not been seen with Bustamante since the election.
Sidebar – Dragna's office appears to be located in the Anaheim Towers.  Isn't that where former Assemblyman Jose Solorio's offices were at?  In fact current Assemblyman Tom Daly's office is in one of those towers…