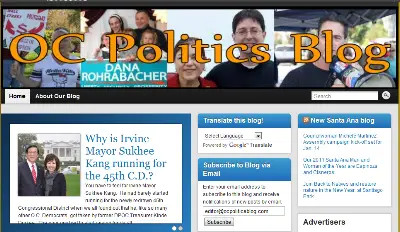 Yes its true – I launched a new Orange County political blog on New Year's Day.  I am calling it the "Orange County Politics Blog."
As many of you may know, I started Orange County's first political blog, the Orange Juice, back in 2003.  It became Orange County's top political blog and I believe that one of the reasons for that was our dedication to being an alternative to the red and blue blogs in the O.C.  
Since I turned over the Orange Juice to Vern Nelson, in 2010, it has steadily veered to the left.  I had hoped that Vern would continue to steer the OJ down the middle, but that simply has not happened, particularly since Vern added DPOC member Greg Diamond to his blog team.
There is still a need for an independent alternative political blog and I believe I can do that again – but this time I am going it alone.  I tried to expand the OJ's reach back in the day by adding a who's who of local political bloggers, but it backfired time and again.  Partisans simply can't help being partisans.
I am also going back to the Libertarian Party.  That may seem nuts since the new open primary system will shut third parties out of our general elections, but I am hoping the courts will overturn the open primary.  If not, oh well.  I just can't stand the Democrats any more than I can stomach the Republicans.  I quit the OC GOP back in 2007 after having had enough of their attacks on immigrants and gays, but really the Democrats aren't much better when it comes to these folks.  President Obama doubled deportations and it is still illegal for gays to marry, under both federal and state laws.
Have I learned a few lessons over the past couple of years?  You bet.  My new blog will be informative and I am sure my sense of humor will pop up, but I am going to try to present OC politics in an informed and entertaining way – and we'll steer clear of the nuttiness that was the old OJ blog.
Thanks to our readers who made the New Santa Ana such a hit in 2011.  We had over 340,000 visits to our New Santa Ana blog last year.
The good Lord blessed me with the ability to write – and to do so quickly and well.  I look forward to doing so in 2012, here and on the new OC Politics blog.