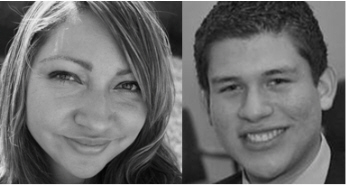 Our readers have spoken!  They voted for the Orange County Register's O.C. Latino Link Editor, Theresa Cisneros, as our 2011 Santa Ana Woman of the Year, and they also selected Santa Ana Youth Commissioner Jonathan Espinoza as our 2011 Santa Ana Man of the Year.  Congratulations to both of these great contributors to Santa Ana!
Cisneros beat Santa Ana Council Woman Michele Martinez, who is currently running to replace Assemblyman Jose Solorio in the 69th Assembly District, and Jackie Cordova, the co-owner, along with her husband Rudy, of Calacas on 4th Street and the new Calacas Cafe.  Santa Ana Mayor Pro Tem Claudia Alvarez, O.C. Sheriff Sandra Hutchens, and U.S. Rep. Loretta Sanchez were also in the running.
Cisneros deserves a ton of credit for her hard work on the Register's O.C. Latino Link, which serves as a clearing house for Latino voices in Orange County.  This has really helped to offset the blatant racism often exhibited by the Register's readers, in online comments – that too has gone down a lot since the Register started enforcing a policy of commenting with your Facebook account.  No more anon haters!  We feature the O.C. Latino Link's RSS feed on our home page.
Espinoza absolutely ran away with the vote, edging out his mentor, State Senator Lou Correa by well over 100 votes!  Artist and Occupy activist Theo Hirsch and Santa Ana City Manager/Chief of Police Paul Walters were also in the running.
Espinoza was previously on the Santa Ana Parks and Recreation Commission, until two rogue bully commissioners compelled him to resign – after he defended my dog park proposal.  He hung in there though and I am happy to report that those bully commissioners are no longer on the Parks and Rec Commission.  Espinoza continues to serve our people on the Santa Ana Youth Commission and he was recently awarded a scholarship to attend Georgetown University.  I fully expect him to return to Santa Ana after he finishes his college education – and I hope to see him run for office one day, even though he is a Republican.  (Perhaps he will lead the GOP to become more accepting of Latinos?)
That Espinoza edged out a number of elected officials and an Occupy activist really says a lot about our city.  I have said this for years – Santa Ana is not a liberal city.  It is a moderate, family-oriented city and I cannot think of a better choice for 2011 Santa Ana Man of the Year than Espinoza!