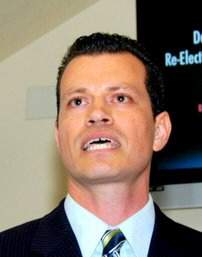 ECCO, one of the leading gay rights organizations in Orange County, announced today that their Political Action Committee has endorsed only one Santa Ana candidate – David Benavides, who is running for Mayor against incumbent Mayor Miguel Pulido.
ECCO coordinated Orange County's efforts to pass state laws that: prohibit discrimination against Gays and Lesbians; establish a domestic partner registry; and give students an added level of protection in school, according to their website.  They also have been involved in the fight against Prop. 8, which made gay marriage illegal in California. Prop. 8 passed overwhelmingly in Santa Ana.
ECCO's PAC endorsements are uniformly liberal.  This year they endorsed only one Republican, SAUSD Trustee Rob Richardson.  That is hard to understand as they overlooked SAUSD Board candidate Myriam Tinajero, whose brother, Santa Ana Council Member Sal Tinajero, led the charge to recognize Harvey Milk Day in Santa Ana.  Nice backstabbing there by ECCO's PAC.  Click here to see the rest of their election picks.
The ECCO PAC endorsement of Benavides may be for naught.  Here's how the OC Weekly summed up Benavides' chances in their new Santa Ana Election Guide:
In addition, Benavides faces a serious problem in that the only santaneros who want Pulido out are an ultimately small (though committed and awesome) group of activists; the majority of the city's wabs and gentrifying gabachos are either apathetic or think Pulido has been the stopgap that has kept SanTana from turning into Mexico, even though that train left 30 years ago. And there's the plant situation: running to challenge Pulido also are Segway lover George M. Collins, walking blob of hate Lupe Moreno, some wab named Roy Alvardo, and Miguel Angel Briseño, who's such an unknown that I originally thought he was my former student at Cal State Fullerton. Briseno and Alvarado will take votes away from Benavides, Collins from Don Papi, and Moreno from both. We wish Benavides well, but it doesn't look good…