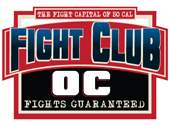 Fall Events at the OC Fair & Event Center Features Competitive Fights, Arts, Crafts, Reptiles and Holiday Celebrations
The OC Fair & Event Center (OCFEC) will have a busy Fall season with four nights of Fight Club OC, 14 days of arts and crafts, a new reptile show and more. Here is the full Fall event calendar:
Fight Club OC – MMA Saturdays
Oct 06, 2012, 06:30 PM – 09:00 PM
In its second season at OCFEC, Fight Club OC continues to offer an innovative bi-monthly series featuring boxing and mixed martial arts competitive fights with ringside luxury suites, VIP access for season ticket holders and sponsors, and a happy hour bar and grill for all attendees before the action. New this season, Fight Club OC also offers bi-monthly "MMA Saturdays" featuring all mixed martial arts bouts.
Sugar Plum Arts, Crafts, Antiques & Collectibles
October 4-6, November 8-10
Shoppers will have two opportunities during the Fall season to find gifts to warm the heart and accessories that make a home for their holiday celebrations. Find the best arts, crafts, antiques, collectibles, baked goods and candies from more than 175 artisans & vendors that are P.R.O.U.D. (Product Represents Own Unique Design/Delicacy) and sell products made in the US.
Gem Faire
October 19-21, December 7-9
Shoppers and crafters looking for all things shiny can enjoy this three-day showcase of gems, jewelry, beads, minerals, crystals, silver, gold and lapidary equipment twice during the Fall season.
Calvary Chapel Men's Conference
October 20
The Men's Fellowship of Calvary Chapel Costa Mesa will gather for a day of sharing Christian messages and music. This event is open to the public and non-members.
The Fall OC Home Improvement Show
October 20-21
Find two giant shows for one admission price. Get everything for your home and yard at special pricing and hourly DIY workshops on how to install tile, hardwood floors, faux painting and more. Plus find "Everything a Woman Wants" with free haircuts, massages, nail bar, makeup demonstrations, fashion shows, cooking demonstrations and more!
Reef-A-Palooza
October 20-21
Two-day indoor marketplace for marine aquarium vendors, exhibitors and hobbyists to buy, sell, trade and showcase their products and collections.
Crossroads of the West Gun Show
November 24-25
The Crossroads of the West Gun Shows returns for its last show of the year with one of the largest and highest quality gun shows on the West Coast.
Magic Trees Christmas Tree Lot
November 29-December 19
Find your holiday centerpiece at this large display of Noble Fir and Douglas Fir Christmas trees for sale. Flocking and wreaths are also available.
Repticon – A Reptile & Exotic Animal Expo
December 1-2
New at OCFEC, this two-day marketplace and expo features local and regional breeders and vendors selling reptile pets, supplies, feeders, cages and merchandise, plus hourly raffles, educational seminars and activities for children.
OC Fair New Year's Eve Block Party
December 31
Come ring in the New Year as only the OC Fair knows how at the OC Fair New Year's Eve Block Party featuring tribute bands, food trucks, demolition derby and more.
Additionally, visitors to OCFEC can also enjoy these events weekly:
Food Truck Fare (Free admission & parking)
Each week, local foodies have two chances to enjoy a gourmet food truck meal:
–Wednesdays (After Dark) offer a variety of gourmet food trucks for a unique dinner under the stars, plus enjoy entertainment and a cash bar from 5:30-9 p.m.
–Thursdays (Lunch) offers another variety of gourmet food trucks for a tasty lunch from 11 a.m.-2 p.m.

Farmers Market (Free admission & parking)
Each Thursday, peruse this California-certified farmers' market selling sells fruits, nuts and vegetables directly to the public from 9 a.m.-1 p.m.

Orange County Market Place ($2 admission)
Open Saturday and Sunday from 7 a.m.-4 p.m., this weekend swap meet offers a celebration of food, fun, value and the entrepreneurial spirit.
Events, pricing and hours are subject to change. Please visit ocfair.com for the latest information.
If you are an event promoter or are looking for a unique place to hold your next private event, check out OCFEC's diverse outdoor and indoor facilities. For a specialized pricing quote for your event needs and desired dates, please submit a "Book An Event" online form today at ocfair.com under Facilities Information.
Additional Fall events not detailed above include: OC Pumpkin Patch (October 2-November 3), NMUSD College Night (October 10), Halloween Foodtacular at Food Truck Fare (October 31), Southern California Indian Center Pow Wow (November 17), Electric Run 5k (November 30), Shoreline Dog Show (December 7-8) and Malibu Kennel Dog Show (December 9-10).