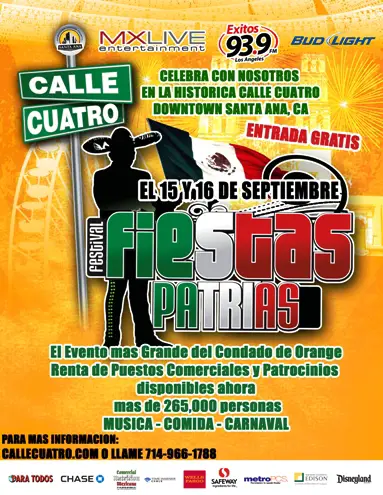 CALLE CUATRO FIESTAS PATRIAS 2012 COMMERCIAL BOOTHS AND SPONSORSHIP OPPORTUNITY AVAILABLE
FOR IMMEDIATE RELEASE
SANTA ANA, CA (Aug 22, 2012)- The 34th annual Calle Cua­tro Fes­ti­val, a two day cel­e­bra­tion com­mem­o­rat­ing Mexico's inde­pen­dence, will take place at the famous Calle Cua­tro, 4th street, in Santa Ana on Sept 15th and 16th from 11am-10pm. MX LIVE Enter­tain­ment along with the City of Santa Ana along and Exi­tos 93.9 are pro­duc­ing the fes­ti­val which is con­sid­ered the biggest Mex­i­can inde­pen­dence day cel­e­bra­tion in the world out­side of Mex­ico. It will include live music and pre­sen­ta­tions by Latin Grammy and Bill­board Per­form­ing Artists. In pre­vi­ous years the crowd has enjoyed per­for­mances by Fobia, Gus­tavo Galindo, Ozomatli, Ceci Bastida, and more. Fies­tas Patrias also fea­tures a free 2 hour parade, fes­ti­val food, beer gar­den, car­ni­val rides and games, and com­mu­nity entertainment.
There are still com­mer­cial booths and spon­sor­ship oppor­tu­ni­ties avail­able. Fes­ti­val ele­ments for cus­tomized spon­sor­ship pack­ages include: stage men­tions & give­aways, ban­ners through­out the fes­ti­val, loop videos dur­ing parade, hos­pi­tal­ity access passes, flag­pole ban­ners at "Calle Cua­tro", dig­i­tal sig­nage, sig­nage around the main stage, out of home adver­tis­ing, bus stop adver­tis­ing, out­door bill­boards, and radio campaign.
In addi­tion, there are parade pack­ages avail­able that include float entry (pro­vided by spon­sor), the grand mar­shall car, VIP seat­ing area, and booth space dur­ing fes­ti­val. Being a par­tic­i­pant at Calle Cua­tro pro­vides you with media sup­port by the fol­low­ing: Excel­sior, Orange County Reg­is­ter, Para Todos Mag­a­zine and OC Weekly.
Calle Cua­tro is a great oppor­tu­nity for busi­ness and cor­po­ra­tions who seek to tar­get the His­panic mar­ket since 80% of the pop­u­la­tion of the City of Santa Ana is promi­nently His­panic. Last year Calle Cua­tro Fies­tas Patrias obtained about 265,000 atten­dees; many of whom come from sur­round­ing cities and counties.
Fies­tas Patrias is one of the biggest and most antic­i­pated His­panic fes­ti­vals in South­ern Cali­for­nia and it would not be what it is today with­out the sup­port of spon­sors such as: Bud­weiser, Man­zanita Sol, Com­er­cial Nutri­tion Mex­i­cana, Cal­i­for­nia Edi­son, Metro PCS, Time Warner, Tajin, Ford, Dis­ney­land Resorts, Volaris, West­ern Union, Wells Fargo, Boost Mobile, and many more.
For more infor­ma­tion on spon­sor pack­ages and booth avail­abil­ity for Calle Cua­tro Fies­tas Patrias, please visit www.callecuatro.com, www.facebook.com/MXLiveEntertainment or con­tact Nancy Lozano, Mar­ket­ing Man­ager, at (714) 966‑1788.
###
Click the link below to view the offi­cial let­ter from the City of Santa Ana per­mit­ting MX Live Enter­tain­ment to pro­duce Cinco de Mayo and Fies­tas Patrias Fes­ti­vals. City Man­ager Letter
Stay updated on Calle Cuatro through our online social networks.
Follow us on Twitter.
Follow us on Facebook!