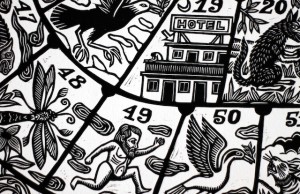 Mexican and Chicano Art at the Muck – Gallery Opening Reception: Open Your Eyes/ Abre Los Ojos – August 30-November 4
Opening Reception Thursday . August 30 . 6:30 PM.  Special Performance by Ballet Folklorico Monte Alban at 7 PM.  Curator's Walk Through November 1 . 6 PM.
To celebrate Fullerton's Sister City of Morelia, Mexico, guest curator and celebrated artist José Lozano selects revered Mexican and Mexican–American art centered on the state of Michoacan from private collections in Southern California.
Selections of Mexican and Chicano art from the collections of Armando Duron, Miguel Echeverria, José Lozano, Anita Miranda, and Enrique Serrato. Featuring works by Frank Romero, Gilbert Lujan, Salomon Huerta, Margaret Garcia, Yreina Cervantez, Barbara Carrasco, Gronk and others.
Supported by grants from The James Irvine Foundation, The National Endowment for the Arts, and Fullerton Sister City Association.