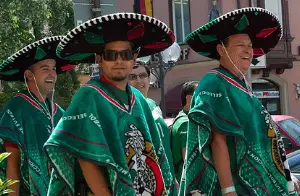 Fans of the Mexican National Soccer Team, known as "El Tri," are the best sports fans in the U.S.A., according to a new column in ESPN Magazine.  These fans travel – anywhere in the U.S.A. where they can watch their beloved "El Tri."  You can see their effect on Facebook, where El Tri has almost 4,000 fans.
And big business has taken note.
Whom did Jerry Jones book to headline the inaugural sporting event at Cowboys Stadium? Mexico, which set a soccer attendance record in Texas in its 2009 Gold Cup quarterfinal against Haiti. And guess who kicked off the first full event at New Meadowlands Stadium the following year? Mexico again, in a friendly against Ecuador that was attended by 77,705 fans, according to ESPN.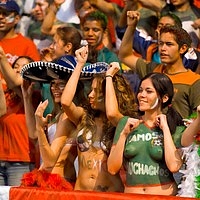 But here in Santa Ana there has been a noisy eruption amongst a small group of mostly white, mostly Republican NIMBY's who are having a royal cow because the Chivas USA soccer team MIGHT move to Santa Ana, to a proposed new soccer stadium complex to be located at the Willowick Golf Course.  If this deal does come through, and I have great reason to believe it will not, the Chivas USA team will play at Santa Ana's Eddie West Municipal Stadium for a couple years, until their new home is ready.
ESPN says Mexican soccer teams are numero uno.  But here in Santa Ana the haters have something else to say about Latino soccer teams.  Here are just a few excerpts from a ridiculous screed that was included in the latest Washington Square Neighborhood Association newsletter:
There is, however, something that can greatly threaten our neighborhood property values as well as our standard of living–a move by Chivas USA to Santa Ana Stadium.
You can imagine the terrible trash, noise, trash, and other problems that a major professional team can bring to an adjoining neighborhood.
With constant noise (announcer, crowds, and vuvuzalas), parking hassles, potentially violent post-game crowds; potential new families will think twice before moving to Washington Square.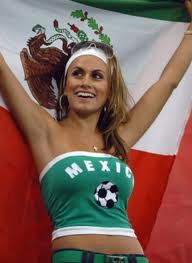 The Washington Square bunch even wonders how the City of Santa Ana would pay for a new stadium.  Well, consider this, from ESPN:
Mexico's fans dominate the small screen the way they do the ticket booth. During the 2010 World Cup, the U.S. audience for Mexico matches on Univision averaged 6,072,000 viewers; the network's Mexico-France group game drew comparable ratings to ESPN's broadcast of Landon Donovan's game-winner against Algeria. On average, El Tri friendlies draw bigger ratings than any American network's regular-season NBA or MLB broadcasts.
Clearly Latino soccer fans are a good thing, not a bad thing, begging the question, what is really going on in Santa Ana?  The answer lies in this excerpt from the American Prospect:
Since Richard Nixon, Republicans have been using racially potent language to stir anxiety among whites. The so-called Southern Strategy involved luring white voters in that region, and ultimately across the country, out of the Democratic Party's fold by appealing to racial fears stoked in seemingly neutral language, most notably complaints about welfare and crime. Politicians didn't have to use epithets or make naked appeals to racial solidarity; their complaints about welfare queens and strung-out gang-bangers worked just as well.
Ah.  So there you go.  The demonization of Latino soccer fans is nothing more than the old Republican Southern Strategy.  Stoke the people's fears with racially potent language to stir anxiety among whites.  Well, ESPN isn't buying it and neither should you.