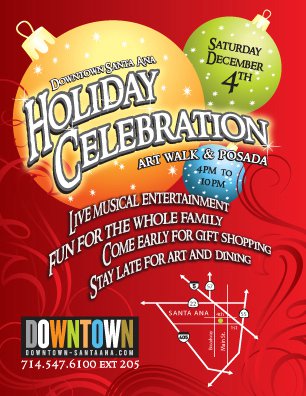 Downtown Incorporated will be holding its First Annual Holiday Celebration on December 4th from 4 to 10 pm here in Downtown Santa Ana!
This special event will include live music and entertainment at both the Artists Village Promenade (2nd St. between Sycamore and Broadway) and French Plaza (4th St. and French)
Merchants will stay open late to accommodate holiday shoppers and local non-profits will be promoting their organizations.
See below for event schedule & please click here to read the event brochure, for additional information.
PHOTOS WITH SANTA:
Photos with Santa Claus from 1 -5 at Fiesta Mall (4th & Bush)
Ride the free Trolley with Santa and Mrs. Claus (pick-ups at French Plaza from 6:30 to 8:30pm)
4TH STREET ENTERTAINMENT
4:00 – 9:00 PM: Musicians, Artisans, Face Painting and more
1-5pm: Photos with Santa Claus at Fiesta Mall (on 4th & Bush)
4-9pm: Downtown Stroll with Rondalla del Sol, romantic acoustic music with guitar, accordion, mandolin & bass
FRENCH PLAZA STAGE:
5 – 9 p.m.
5-6pm: Los Santaneros, full 10 piece Latin band with horn section
6-7pm: Estudiantina del Sol, 20-30 member children's group
7-8pm: Mariachi Rhythmo Academy, mariachi school
8-9pm: OC Spanish Alternative Rock
Plus non-profit vendors!
ARTISTS VILLAGE ENTERTAINMENT
6:00 – 10:00 PM
Open galleries and studios, Santora Building of the Arts, CSUF Grand Central Art Center, OCCCA, and more! Musicians and artisans on the Promenade!
2nd STREET PROMENADE STAGE:
6-6:30pm: AIDS Foundation Vigil
6:30-7pm: Carter Dewberry
7-8pm: Jazz
8-9pm: Peanut
9-10pm: Hollowell
This event is free and open to the public ! Parking is available on 3rd & Broadway and 4th and Spurgeon, additional parking on 4th St. and Birch
Click here to RSVP on Facebook.