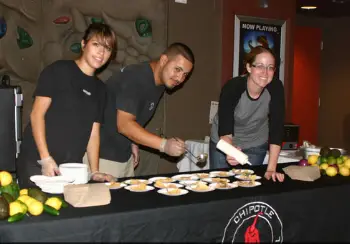 Help make a difference by touching someone's life. Santa Ana North's Rotary Club is dedicated to doing just that. Join us in Fund raising this Saturday with "Discover the Taste," which will benefit our Community. Click on our beneficiaries page to see who we serve.
Saturday October 1, 2011, 6:30 p.m. to 9:00 p.m.
Discovery Science Center: 2500 North Main Street, Santa Ana, California
Participants:
Ristorante Antonello's
McCormicks & Schmick's
Memphis
The Olde Ship
Carnitas Uruapan
Dessert Solutions
Beach Pit BBQ
Coffee Bean & Tea Leaf
Rubios Fresh Mexican Grill
Stone Brewing Co.
Villa Roma
Tustin Brewery
Witch Creek Winery
Pinkberry
Top Class Pizza
Rocky Mountain Chocolate
Dosa Place
Rooney Girl Bake Shop
Noble Ale Works
Sponsors:
Noble Ale Works
Santa Ana North Rotary
Murray's Hardware
Alpha Stationers
Pacific Mercantile Bank
H & E Equipment Services
Donations –  Santa Ana's Own:
Olive Garden
California Pizza Kitchen
El Ranchito
Zitos Pizza
Tustana Animal Hospital
Hakanson Construction
Essex Skyline
Linda Keyes Fine Art
Beth Mondillo Photography
Frances W Greenspan CAH
Lois Richman Author
Financial Planning Assoc. of O.C.
Shulman Hodges & Bastian LLP
All sales are final. No refunds will be given unless the event is canceled. If for any reason the event is canceled by Santa Ana's Rotary Club a full refund will be issued or credited to the card used for purchases.
All tickets must be picked up at the event on October 1, 2011 from 6:30 p.m. onward. Tickets will not be mailed. Please print your confirmation email and bring it to the event.
Contact: John Castillo.  E-mail: please use our contact form
 Click here to view Discover the Taste