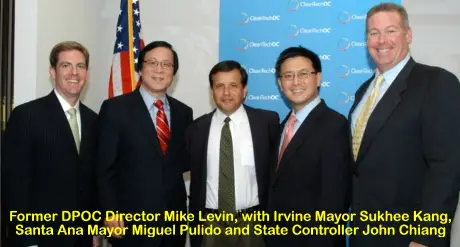 The State of California announced on Oct. 12 that it would be selling 24 government office buildings — including the Ronald Reagan State Building in Los Angeles and the San Francisco Civic Center — to a group of private investors for $2.3 billion, according to CNBC.
I don't personally like this deal as the State would still need the buildings and would have to lease them back from the new owners.   However, the state is broke and Governor Arnold Schwarzenegger has been trying to raise money for the last two years.
Today the story moved in a different direction,  after it was revealed in court documents that Santa Ana Mayor Miguel Pulido would allegedly receive $500,000 if the transaction went through, according to the L.A. Times.
Here are a few excerpts from the Times:
Mayor Miguel Pulido said he was "proud" of his involvement in the sale and called the proposed payment a "success fee." Pulido, whose mayoral post is part-time, said he was acting as a "private citizen" in the transaction.

But after revelations about the proposed fee appeared on The Times' website, Pulido said he had "no written agreement" with the consortium that placed the winning bid for the 11 state properties. Late Monday, he said "I now believe there's no hope that I will receive any money for this transaction under any circumstances."
As you might expect, Pulido's detractors are in a full frenzy over this.  But let's step back and look at this deal objectively.  If indeed Pulido was supposed to get a $500K fee, is it really that much compared to the total price tag of the deal?  I calculated it and his supposed fee came to only .02% of the deal.
Realtors make, on average, a 6% commission, according to Mortgage Daily News.  If Pulido had been paid along those lines, for this massive deal, he would have earned a $138 million fee.  But he isn't a realtor, although he says he did earn the fee by bringing the investors to the table and helping to consummate it.
What Pulido did is NOT illegal.  Whether or not it is ethical depends on who you ask.  But the bottom line is that pulling together a deal like this is not easy.  Pulido had the connections and the wherewithal to make this happen.  It sure looks like he earned his fee.
But that isn't how this will spin out in the local blogosphere, I daresay.  Pulido will get roundly ripped by the usual detractors.
Let me remind you, my readers, that this man is a part-time Mayor.  He is a consultant and he makes a living the best way he can.  He has been accused over the years of all sorts of malfeasance, but has never been charged with any crimes or been arrested.
Other local elected officials in Orange County are also involved in such deals, including Irvine's Councilman Larry Agran, Anaheim's outgoing Mayor Curt Pringle; and Tustin's Mayor Jerry Amante.  And outgoing Fullerton Councilwoman Pam Keller, as well as Anaheim Councilwoman Lorri Galloway, have both pumped public funds into their respective non-profits, which, as I understand it, pay them each a salary.
Some Santa Ana activists believe that our Mayor should be full time and he should be paid appropriately.  Were that to happen, it would lessen the need for Pulido to get involved in such transactions.
As for those who supported his opponent, local attorney Alfredo Amezcua, this year, they should know that he supposedly owns 39 properties, which I believe are mostly rentals.  He is no stranger to real estate deals.  I am told he makes far more money this way than he does defending criminals.  Does anyone think Amezcua would not jump at a chance to make a half million by brokering the sort of deal that Pulido got involved with?  Of course he would go for it!  Remember too that Amezcua fleeced a lot of people with his Santa Ana Business Bank.  The investors lost almost half their investments by the time he found a buyer.
Rip Pulido if you must, but the alternative this year might have been a complete train wreck.