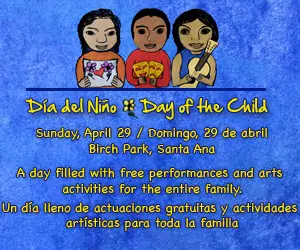 DÍA DEL NIÑO/DAY OF THE CHILD
Sunday, April 29 10:00 am – 5:00pm
Presented by: Arts Orange County and El Centro Cultural de Mexico
Time: 10am to 5pm; Admission / Entrada: Free
Birch Park 210 N. Birch St., Santa Ana
A day of free performances and participatory arts activities for all ages. Come honor youth and celebrate childhood through the arts! Un día de espectáculos gratuitos y actividades artísticas participativas para todas las edades. ¡Ven a rendirles homenaje a los jóvenes y a celebrar la infancia a través de las artes!
All are welcome to picnic in designated areas of the park. / Bienvenidos a todos para hacer un picnic en áreas designadas del parque.
Performances by / Las actuaciones de:
Members of La Santa Cecilia
Barrio Writers
Cambodian Family
Curious George of PBS SoCal
Grupo de Salsa de Centro Cultural de Mexico
Grupo Infantil de Danza Regional Mexicana
Island Girls
Orange County High School of the Arts
Orange County Therapeutic Arts Center
Relampaga del Cielo
Son del Centro
The Senior Center
Youth and Adults from our community!+
and more / y más
WORKSHOPS / TALLERES:
Aerosol, Creative Writing/Escritura Creativa, Improvising and Creating Theatre /Improvisación y Creación de Teatro, Puppet Making and Playing /Armado y Juego con Títeres, Voice Training / Entrenamiento de Voz, Movement /Movimiento, Painting / Pintura , Mask making / Elaboración de Máscaras, Sculpting / Escultura, Mosaic and Print Making / Mosaico y Grabado, Anti-Bullying Theatre / Teatro Contra el Acoso, and more /y más.
Presented by / Presentado por : The ART CART, Bowers Kidseum, Cristina Nava, Cynthia De Cure, Diane Doyle, Gina Davison, Katy M. Macias, Orange County Dream Team, Orange County High School of the Arts, Portable City Project's Residency @ Grand Central Art Center, Jose Casas, Rogue Artists Ensemble, Southern California Artists and more / y más.
More specific times of performances and workshops to be posted / Horarias más específicos de actuaciones y talleres, para ser publicado: SparkOC.com