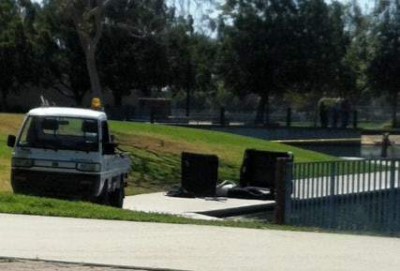 A worker found the body of a man floating in the lake at Centennial Regional Park on Wednesday morning at around 9:45 a.m., in Santa Ana, police said, according to the O.C. Register.  The park is located at 3000 W. Edinger Ave.
The SAPD's homicide detectives and the O.C. Coroner indicated that the body did not show any obvious signs of trauma.
No one knows yet what killed this person or why he was floating in the lake.
The lake is adjacent to the Santa Ana College's School of Continuing Education, located at 2900 W. Edinger Ave.  Godinez Fundamental High School is also located at Centennial Park.  The area also includes soccer fields and a skateboard park.  There is also a bike trail just west of the park which leads all the way to the beach.
The incident happened in Santa Ana's Ward 6, which is represented by Councilman Sal Tinajero.