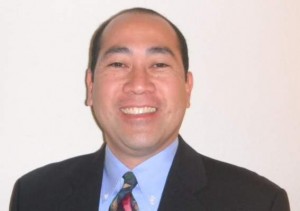 DAVID NAKASHIMA HONORED WITH FAIRHAVEN'S OLIVER HALSELL CARE AWARD
ORANGE, Calif., (Jan. 29, 2014) – When Orange resident David Nakashima finally found the time to pursue his desire to volunteer with hospice patients, he discovered a surprisingly fulfilling new outreach. His presence at OC Hospice in Tustin has brought a great deal of comfort not only to the patients and their families but also to Nakashima himself.
Nakashima is being honored as the January recipient of Fairhaven's Oliver Halsell Care Award. Fairhaven Memorial Park & Mortuary, with locations in Santa Ana and Mission Viejo, created the recognition program in 2012 to pay tribute each month to individuals who have demonstrated exceptional care in their profession, community and the world at large.
"Hospice caregivers are oftentimes overwhelmed and in desperate need of help with providing care and instilling positivity and peace in those struggling," said Marla Noel, president of Fairhaven. "David's dedication to OC Hospice's patients and their families during such harrowing times is a blessing."
As a volunteer at OC Hospice, Nakashima visits patients during his free time. Occasionally he sits with them, talking and listening, reading aloud, assisting with needs, playing games, reading bible verses—anything to make their lives more enjoyable. Nakashima goes above and beyond what is expected from a volunteer, including engaging with patients who do not have an assigned volunteer and following up with support to family members after a loved one has passed. In addition, he accepted the role of project manager for the 2013 Adopt A Senior Holiday Angel program.
"I simply want the people who I encounter to know that someone cares about them," said Nakashima. "I want their families to know that there is someone else out there who is willing to help watch over their loved ones. I cannot help every ailing patient, but I know that I can help some of them."
Nakashima also works full-time at The Walt Disney Company in Anaheim, where he is involved with the corporate VoluntEAR program. Through this program, he has participated in various local charity events such as the Leukemia and Lymphoma Society, Light The Night Walk. In addition to his passion for spending time with patients and families, Nakashima enjoys traveling and following college sports.
"It motivates me each morning to know that I may make a difference in someone's life or make them smile and laugh," Nakashima expressed. "I am very appreciative to have been given an award for something that I love to do."
Nakashima will be honored at Fairhaven's Oliver Halsell Care Awards banquet in November. The banquet honors a year's worth of achievements among the local caregiving community.
About Fairhaven's Oliver Halsell Care Award
Fairhaven's Oliver Halsell Care Award pays tribute to Orange County individuals whose kindness and dedication to serving others is inspirational. These courageous individuals go above and beyond their job descriptions to serve with the utmost care and compassion. Fairhaven's Oliver Halsell Care Award winners come from many fields including private care, hospice, social work, counseling, assisted living, nursing, therapy and volunteer work.
For more information and to nominate a deserving candidate, visit Fairhaven's website: http://www.fairhavenmemorial.com/community/oliver-halsell-care-award or email CareAwards@FairhavenMemorial.com.
About Fairhaven
Founded in 1911 by Oliver Halsell to provide a peaceful and comforting place for families to honor their loved ones, Fairhaven Memorial Park & Mortuary is Orange County's most beautiful independently owned and operated full-service mortuary, crematory and cemetery. With the memorial park and mortuary in Central Orange County and an elegantly appointed mortuary in South Orange County, Fairhaven offers a wide range of pre-need and at-need services provided with care and compassion. Fairhaven is dedicated to celebrating the individual, providing services that are as unique and wide-ranging as the people they celebrate. Additional information is available at www.fairhavenmemorial.com. Connect with Fairhaven at www.facebook.com/fairhavenmemorial or www.twitter.com/fairhavenoc.
# # #