The hipsters and gentrifiers are trying to argue that all is well in Downtown Santa Ana, in the wake of the brutal murder of Kim Pham, who was literally kicked in the head until she went into a coma, in front of The Crosby, a bar/restaurant.  She later died in the hospital.
The Crosby is done.  According to the OC Weekly they are not going to reopen.  And the Memphis at the Santora is also done.  They will apparently be replaced by a "High End Mexican Restaurant," whatever the heck that is.  Imagine the limo liberals from Irvine and Long Beach holding Drinking Liberally in a Mexican restaurant!  LOL!
And Jack Jakosky, the owner of the Santora building served eviction notices yesterday on the Studio del Sotano and the Green Door Gallery, weeks after whitewashing a mural at the Santora and painting over the Studio del Sotano's marquee.
Matt Southgate, the manager and primary rent payer of Studio del Sotano said in an email that he was not behind on his rent and he was not allowed to discuss new rental arrangements with Jakosky.
Jakosky apparently wants to bring "New Life" and a "New Aesthetic Approach" to the Santora.  Get ready for paintings of whales and dolphins!
I am also told that the DTSA powers that be will try to gloss over all of this mess with "Avant Garde" musicians who will be strolling the downtown during the upcoming Art Walk.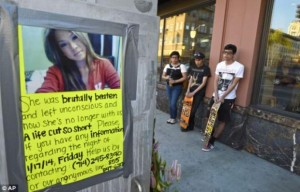 Let's be honest about this.  Downtown Santa Ana is imploding.  This house of cards cannot stand.  The drinking culture and gentrification does not serve the families that live in our city and now, in the wake of Pham's brutal murder, it is becoming obvious that we need a new direction in DTSA.
I am by the way horrified that so many Latinos are defending Pham's killers just because they are Hispanic.  They are blaming the victim and accusing us of being racist for calling Pham's murder what it was – a hate crime.
I don't know how the OC Weekly can say that DTSA is safe.  As many as 50 people laughed and took pictures as videos as Pham's head was literally kicked in.  Why would any sane person want to go hang out with such animals?  I can't blame Pham's friends for not talking to the police when the temp Police Chief and our lame City Council are insisting that this was not a hate crime.
DTSA is not safe.  Nor is much of our city.  Click here and see for yourself.