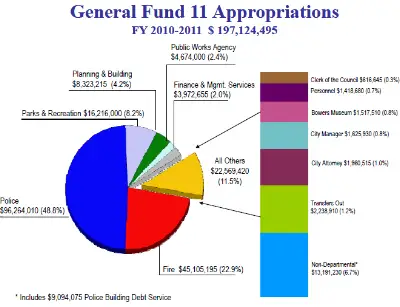 Santa Ana Council Member Michele Martinez did a very brave thing at tonight's Santa Ana City Council meeting.  At the end of the meeting, during public comments, she spoke up and asked the question that has been on everyone's minds – why isn't the City of Santa Ana looking at outsourcing the Santa Ana Police Department?
The City of Santa Ana is looking at a minimum $30 million dollar annual deficit.  Of that, $25 million is paying for retirement funds for public employees.  And about half of the city's general fund is spent on our police department!
Santa Ana acting City Manager Paul Walters, who is also our Chief of Police, has said he is willing to outsource just about every city department, including the Fire Department – but the police are off limits apparently.  The Council won't even vote to consider outsourcing the Police Department.
Now it might be that there is little to be saved in letting O.C. Sheriff Sandra Hutchens take over our city police department.  But why not at least ask her?
Martinez also asked that we roll back the executive pay raises that were handed out this year (I agree!) and ask the union cops and firemen to pay their fair share of Calpers fees.  Bravo!
Predictably, Councilman Carlos Bustamante defended the raises.  He got busted earlier this year, at the County of Orange, for accepting massive raises that were not approved.
Kudos to Martinez for daring to question these expenditures!