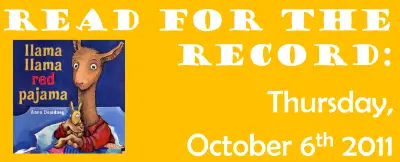 FOR IMMEDIATE RELEASE
Contact: Angela Burrell, APR, (714) 558-5555
Santa Ana students to help set world reading records in their pajamas on Thursday
Students, Santa Ana Superintendent to help set world records, raise awareness of importance of reading early
SANTA ANA, CA — October 4, 2011 – – Santa Ana Unified School District (SAUSD) students will wear their pajamas to school on Thursday as Superintendent Thelma Meléndez de Santa Ana, Ph.D., and other local school officials will read them a favorite story book while working to set two world reading records.
About 250 pre-Kindergarten and Kindergarten students at Heninger Elementary School at 10:30 a.m. will join children across the country in listening to the popular story book Llama Llama Red Pajama by Anna Dewdney provided to the school by Pearson, the world's leading learning company. Media are invited to the event, which is part of Jumpstart's Read for the Record® National Campaign, to see Superintendent Meléndez de Santa Ana reading to children at Martin R. Heninger Elementary, 417 W. Walnut St., Santa Ana, CA 92701. The event will take place in the school's multi-purpose room. Pearson, which sponsors the annual event, is donating 250 books to the school in conjunction with the record-breaking event.
"We value early childhood learning at SAUSD," said Superintendent Meléndez. "Early literacy is really the key to helping students excel at all levels of learning. In addition, studies show that involving students in early childhood programs will help address the escalating achievement gap that currently exists among our students."
The children will "read for the record" as part of a major effort promoted by the Pearson Foundation to raise awareness for the need to read to children at the youngest ages. For the first time ever, children nationwide also will attempt to break the record for the largest number of children being read to from a digital story online.
In addition to the thousands of books donated to school districts, for every book read online as part of the Read for Our Schools campaign, the Pearson Foundation will donate a brand new copy of Llama Llama Red Pajama to children in need.
This year, for the first time ever, both the English and Spanish versions of Llama Llama Red Pajama will be available in audio version from Pearson Foundation's website at www.wegivebooks.org. The author, Anna Dewdney, recorded the English version of the audio book. There also will be a video recording of the book in sign language at the www.wegivebooks.org site.
Santa Ana parents can join SAUSD by participating in the Read for the Record event from home. Parents can access online story books for free on Thursday and anytime at www.wegivebooks.org.
###
SAUSD Public Information Office
1601 E. Chestnut Ave. | Santa Ana, California | 92701
Phone 714.558.5555 | Fax 714.558.5812