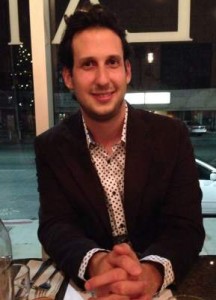 Santa Ana Councilwoman Michele Martinez has reason to worry as she prepares for her reelection campaign in the upcoming November General Election.  But from what I hear she is not overly concerned about Mirna Velasquez, who appears to be her top challenger.  No, Martinez is losing sleep over a candidate most Santa Ana residents have never heard of.  His name is Gilad Salmon.
Salmon's Facebook page says he grew up in Anaheim Hills but it also says he worked at a Jewish Community Foundation in San Francisco.  Salmon is not running much of a campaign for Ward 2 but he might benefit from a three way vote split by the Latino candidates, which include Martinez, Velasquez and a fellow named Rene Gomez.
Gomez has no business being in this race but the OC GOP apparently recruited him even though Velasquez, a moderate independent, was already in the race.  He is a salsa instructor and while he has no chance of winning his presence on the ballot serves to undermine the other Latino candidates.
Salmon could win.  He could become Santa Ana's first Jewish Councilman.  He is a bay area liberal.  Probably completely out of touch with most of our residents.  But he might luck into a Council seat.
We saw in the 2012 General Election that you don't have to put much effort into winning a City Council seat if the starts align correctly.  Totally unknown Angie Amezcua won in Ward 3 and she did not campaign at all.  Her victory was based on her ballot title – teacher.  Salmon must have been paying attention because his ballot title includes the word "Educator."
Judging from Salmon's Twitter feed he is a one-dimensional candidate.  His entire focus appears to be Downtown Santa Ana.  Also, he just got married – which is something given that Santa Ana is dominated by families and Martinez remains single and childless.
You can learn a bit more about Salmon on his Instragam page.  But not much more.
According to his Linkedin Page, Salmon appears to be a web developer and he is very involved in various Jewish organizations.
There are not many Jews in Santa Ana.  But you might recall that former Mayor Pro Tem Claudia Alvarez got into a lot of trouble when she compared local Jewish developer Irv Chase to Hitler.
The only other time I can recall anything involving Jews in the headlines here in Santa Ana is when local Palestinian American activist Alex Odeh was allegedly murdered by a member of the Jewish terrorist group called the Jewish Defense League.  There is a statue of Odeh on the lawn of the Santa Ana Public Library.
I doubt there were ever any other Jews elected to our City Council given that Orange County was founded by members of the KKK and Santa Ana was full of them back in the day, as reported by the OC Weekly.  So if Salmon gets elected he will be making history in Santa Ana as our first Jewish Council Member.
My fear is that Salmon will side with the gentrifiers who have already made such a mess of DTSA.  Perhaps there will be more to him than meets the eye.  We can only hope so.
I really can't come up with any reasons to back Martinez.  Our City Council is the worst in Orange County.  Consider the headlines in the past few weeks!  This Council was asleep at the wheel when OC Vector Control wanted to spray homes in our inner city with insecticides that really weren't needed here.  No one on the Council spoke up when the SAPD fired 25 school crossing guards just as kids were returning to local schools.  And the Council approved the waste of a half million dollars shutting down medical marijuana dispensaries when they really ought to be devising a conditional use permit so these operations can function legally, and be taxed, in our city.  And you all know by now that our city is caught up in a huge increase in gang violence – which Councilman Benavides says is an anomaly.
I have endorsed Velasquez and I hope she wins.  But don't be surprised if this Salmon character becomes the next Angie Amezcua.  It could happen!