The City of Santa Ana is excited to begin reopening certain businesses today, May 8, under new State guidelines.
All businesses should follow the State guidelines in order to prevent COVID-19 from continuing to spread. Please refer to the State's website for specific industry guidelines: https://covid19.ca.gov/roadmap/
Gov. Gavin Newsom announced that the State of California is moving into a Stage 2 reopening in which some lower-risk workplaces can gradually open with adaptations. BEFORE re-opening, all facilities must first perform a detailed risk assessment and implement a site-specific protection plan.
Businesses that can open with restrictions:
Retail stores including but not limited to: bookstores, jewelry stores, toy stores, clothing stores, shoe stores, home and furnishing stores, sporting goods stores, antique stores, music stores, florists.
Note: These businesses can ONLY open with curbside pick-up and delivery until further notice.
Supply chains in manufacturing and logistics sectors supporting the above businesses also can reopen.
Can NOT open now but can open later within Stage 2:
Date to open these businesses has not been specified by the State yet.
• Destination retail, including shopping malls and swap meets.
• Personal services, limited to: car washes, pet grooming, tanning facilities and landscape gardening.
• Office-based businesses (telework remains strongly encouraged).
• Dine-in restaurants (other facility amenities, like bars or gaming areas, are not permitted to open yet).
• Schools and childcare facilities.
• Outdoor museums and open gallery spaces.
For reopening guidelines by industry and further details, please visit https://covid19.ca.gov/roadmap/. After going to the website, scroll down to the list of industries and select the desired industry for specific Stage 2 reopening guidance.
The retail guidance is at https://covid19.ca.gov/pdf/guidance-retail.pdf.
All previously open essential businesses and workplaces can continue to operate.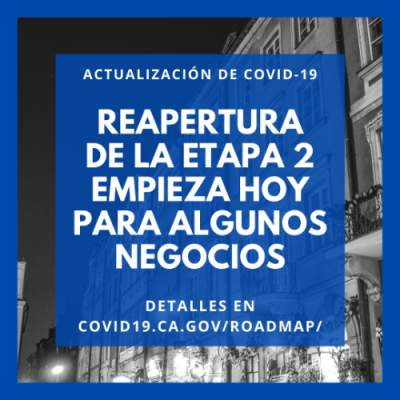 Las Directrices Estatales Para Reabrir Algunas Empresas
La Ciudad de Santa Ana está entusiasmada de comenzar a reabrir ciertos negocios hoy, el 8 de mayo, bajo las nuevas directrices Estatales.
Todas las empresas deben seguir las directrices Estatales para evitar que el COVID-19 continúe propagándose. Consulte el sitio web del Estado para conocer las directrices específicas de la industria: https://covid19.ca.gov/roadmap/
El gobernador Gavin Newsom anunció que el Estado de California se está moviendo hacia una reapertura de la Etapa 2 en la que algunos lugares de trabajo de menor riesgo pueden abrirse gradualmente con adaptaciones. ANTES de volver a abrir, todas las instalaciones primeramente deben de realizar una evaluación de riesgos detallada e implementar un plan de protección específico al sitio.
Los negocios que pueden abrir con restricciones:
Venta minorista en la banqueta, que incluye, pero no se limita a: librerías, joyerías, jugueterías, tiendas de ropa, zapaterías, tiendas de muebles y artículos para el hogar, tiendas de artículos deportivos, tiendas de antigüedades, tiendas de música, floristerías.
Nota: Estos negocios pueden abrir SOLAMENTE con el servicio de recogida y entrega a la banqueta solamente hasta el próximo aviso.
Las cadenas de suministro en los sectores de manufactura y logística que respaldan las empresas mencionadas también pueden reabrir.
NO se puede abrir ahora, pero se podrá abrir más tarde dentro de la Etapa 2:
La fecha para abrir estos negocios aún no ha sido especificada por el Estado.
• Venta minorista de destino, que incluye centros comerciales y mercado al aire libre / tianguis.
• Servicios personales, limitados a: lavado de autos, aseo de mascotas, salones de bronceado y jardinería paisajística.
• Empresas basadas en la oficina (el teletrabajo sigue siendo muy recomendable)
• Restaurantes para cenar (todavía no se permite abrir otras comodidades de instalaciones, como cantinas o áreas o sede de juego)
• Escuelas y guarderías.
• Museos al aire libre y espacios abiertos de la galería.
Para ver las directrices de reapertura por industria y más detalles, por favor visite https://covid19.ca.gov/roadmap/. Después de ir al sitio web, desplácese hacia abajo a la lista de industrias y seleccione la industria deseada para obtener la orientación específica de la reapertura de la Etapa 2.
La guía minorista está en https://covid19.ca.gov/pdf/guidance-retail.pdf.
Todos los negocios y lugares de trabajo esenciales previamente abiertos pueden continuar operando.