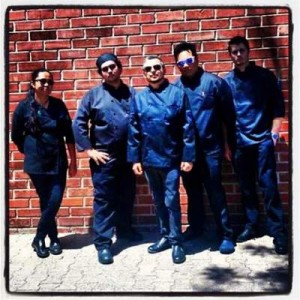 Diego's Downtown opened this week and is ready to take your orders at 224 E. 3rd Street in Santa Ana, according to the OC Weekly.  They are located at 224 E. 3rd Street in Santa Ana.  But you cannot check them out on Father's Day as they are closed on Sundays and Mondays, according to their website.
They are located across the street from the Yost theater and next to Festival Hall.  According to their Yelp page, they are seeking to "bring an eclectic Latin flavor to the new dining scene. DIEGO's provides tasty food, and a standout selection of wine and signature cocktails. The perfect place for a delicious meal or drinks with friends!"
Chef Richard Espinachio brings more than twenty years' experience in art and cuisine to Diego's Downtown, according to their Facebook page. A Santa Ana native with a devoted following, Chef Espinachio creates unique dishes and exciting cultural fusions to cultivate a dining experience that is grounded in traditional flavors and ingredients infused with modern panache.
They have what appear to be some very interesting appetizers including "Plato Bueno" – Farmers' cheese drizzled with lime honey, baked until melted and followed with crushed pistachio. Served with toasted bread, for only $6.  That just sounds amazing!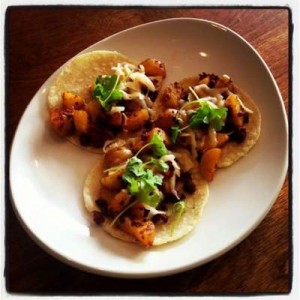 Their lunch menu includes a taco trio goes for $6, which is not bad.  You can get a torta or enchilada for $8, on their lunch menu.  A mixed green salad with chopped up cactus and Oaxaca cheese costs $6 and the Avocado Salad will set you back $11.
Dinner items include Tamarind glazed short ribs for $15 and Tortas Ahogadas for $11 (two mini tortas, one beef and one pork, with sauce to dip them in, and a side of whole "Butterscotch Calypso" beans).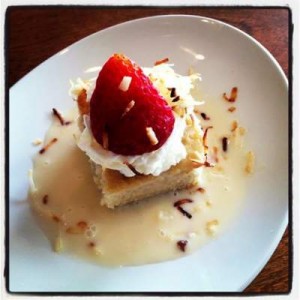 Desserts include "Coco Leche" which looks like Tres Leches cake in coconut milk with a fresh straberry on top, for $5.
They advertise a Happy Hour that runs  from 3-7 pm, Tuesday through Friday, with Beer/Wells/Wine for $2 off.
Be sure to check out their Facebook page for updates.  Check out their full menu here.  Comment on Yelp here.