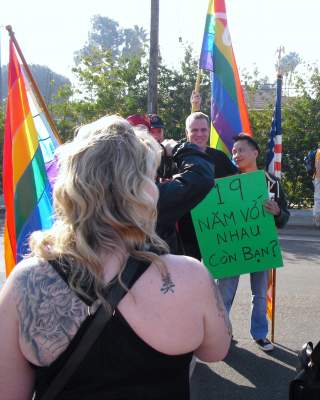 Update on 2/10/13: None of the Santa Ana City Council Members showed up to the Tet Parade nor did I see any of the gay activists.
The controversy that has brewed all week will continue at the Tet Parade scheduled for this Sunday, February 10, at 9 am, at the intersection of Bolsa and Magnolia.
They gay activists who were told by the parade organizers that they could not participate in the parade sued the organizers but a Judge found against them this week.
In the wake of that court decision a number of local elected officials have declared that they will be boycotting the parade.  This is by the way a parade that almost didn't happen, as the City of Westminster is broke and couldn't pay for it. Volunteers worked very hard to raise the money to hold the traditional Lunar New Year parade, in Little Saigon. Continue reading→