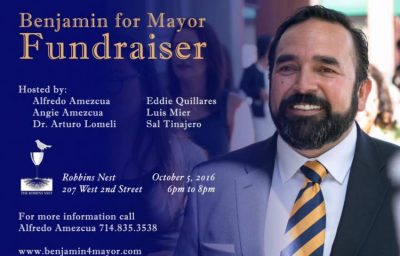 Perhaps the biggest knock on Santa Ana Mayoral challenger Benjamin Vazquez, besides his aggressively liberal politics, is the doubt that he can raise enough money to seriously contend against longtime Santa Ana Mayor Miguel Pulido. Vazquez is attempting to answer that doubt with a campaign fundraiser set for Oct. 5, 2016, from 6 to 8 p.m., at the Robbins Nest, located at 207 W. 2nd St., in DTSA.
The Vazquez fundraiser is hosted by SAUSD Trustee Valerie Amezcua and her dad, former Mayoral candidate Alfredo Amezcua, a criminal defense attorney who regularly defends Santa Ana gangbangers in court; as well as Dr. Arturo Lomeli, a Dentist; Eddie Quillares (a local insurance agent); Luis Mier (a local bail bondsman); and Santa Ana City Councilman  Sal Tinajero.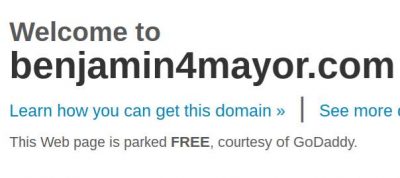 Hilariously the Vazquez campaign event Facebook page notes a campaign URL, www.benjamin4mayor.com, that doesn't work (see the graphic above). Apparently the Vazquez campaign can't afford to pay someone to finish setting up their campaign website. So this fundraiser is aptly timed as the Vazquez campaign surely needs to get some cash flow going – and soon.
(Update – apparently the Vazquez campaign read this article. They have since fixed their broken campaign website)
As for the folks who are backing Vazquez, I am sure that Amezcua (daddy not daughter) is still mad at Pulido for not backing his failed Santa Ana Bank. But the fact that it failed is proof enough that Pulido was smart not to get behind what was a bad idea in the first place. And Lomeli is a Republican dentist who lives in wealthy Orange Park Acres, although he does maintain a dental practice in DTSA. Not sure what his issue with Pulido is, but he is consistently against Pulido as he backed Michele Martinez when she too ran against Pulido.
Honestly I can't blame Amezcua (daddy) and Mier for backing Vazquez as he is on the record as being against hiring more cops. That will be good for Amezcua's gangbanger criminal defense practice and Mier's bail bond business. So backing Vazquez is good for their mutual bottom lines.
I realize that some in town are tired of Pulido, who has been in office forever. But it is hard for me to get excited about Vazquez, whose ideas are mostly nutty. How, for example, does he plan to pay for all that free housing for the poor?
Vazquez does not have a functional campaign website but you can learn more about him on his Campaign Facebook page.