Bowers Thirsty First Thursday "Champagne with Flutes Across The World" featuring John Zeretzke and Salaamuna Ensemble on April 7 from 5-8pm
Sip champagne and make your own flute while enjoying live music and learning about music's influence on cultures across the world as part of the Bowers' new Thirsty First Thursdays monthly evening program. This special event includes a happy hour presented by Tangata. This Thursday, master musicians from the Salaamuna Ensemble will perform on a variety of exotic and rare wind instruments from varying regions and cultures in the Middle East. These world renowned instrumentalists will dazzle and amaze you with their virtuosity, expertise, storytelling and good humor. The performance is followed by an engaging presentation in the Norma Kershaw Auditorium by John Zeretzke, Founder and Artistic Director of Flutes Across the World.
The Bowers Museum's permanent exhibits will be open from 5-8pm and will be included with the Thirsty First Thursday admission price: Members $20 (includes free drink); General $30 (includes free drink); Students $10.
The Mummies of the World special exhibit will be open extended hours, from 4-6pm on Thursday, for a separate weekday admission price of Adults $25 | Seniors (62+) and Students (12-17) $21 | Children (3-11) $10 | and Free for Children Under 3 when accompanied by a paid adult.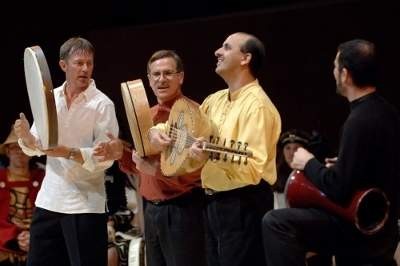 Salaamuna Ensemble brings together four famous and inspiring musical talents of the Middle-Eastern/American music world in this awe-inspiring performance of vocal and instrumental music from the middle and near east, a world of magical sounds that are unfamiliar in most of our everyday lives here in America. These musicians represent some of the most well-known and respected Arabic, Persian, Turkish and Armenian musicians in the world, all brought together on one stage to share their diverse musical expertise and love for these different styles of eastern music.
John Zeretzke has been creating, directing and designing concerts, productions, educational programs and writing original compositions in World Music for over 30 years. He has written numerous ballet and dance scores for such companies as The Joffrey Ballet, Diavolo, The Royal Danish Ballet, The Ice Theater of New York, Ballet de Monterey of Mexico and Ballet Folklorico del Pacifico. In 2000 Mr. Zeretzke was an honored recipient of the P.A.S.A. Award, (Professional Artist in the Schools), a Lifetime Achievement Award for his work in California schools.
Flutes Across The World opens the hearts and minds of children across the world to the universal connection of humankind and cultural understanding through the language of music. Through the personal gift of a flute decorated by one child to another child in different parts of the world, the emotional powers of music and altruism combine to create a life-changing experience for children as givers and receivers of the flutes.
The Bowers Museum is located at 2002 N. Main St. in Santa Ana, less than a minute from the 5 freeway at the Main St. South exit and easily accessible from the 22, 55 and 57 freeways. The Bowers Museum is open Tuesday thru Sunday from 10am to 4pm. General admission is $13 on weekdays and $15 on weekends for adults; and $10 on weekdays and $12 on weekends for students and seniors. Children under 12 years of age are free every day when accompanied by a paying adult or adult who is a member. For more information, visit www.bowers.org or call 714-567-3600.
THIRSTY FIRST THURSDAYS AT THE BOWERS
Thurs., April 7 | 5pm – 8pm
PROGRAM SCHEDULE:
5pm – 8pm: Explore our permanent galleries
5pm – 6pm: Shop at our Gallery Store
5pm – 7pm: Indulge in Tangata's Happy Hour
5pm – 7pm: Make your own flute with Martin Espino
5:30pm – 6:30pm: Enjoy a musical performance by Flutes Across the World
7pm – 8pm: Engage in a lecture presentation by John Zeretzke, who will be discussing the influence and importance of music throughout both modern and ancient, indigenous cultures with demonstrations on ancient and exotic instruments from around the world.
TANGATA HAPPY HOUR MENU:
Angus beef slider, Tillamook cheddar, garlic aioli, grilled onion $5
Sweet potato fries, lemon aioli $3
Strawberry panna cotta, champagne air $5
THIRSTY FIRST THURSDAY (5-8PM)
Price: Members $20 (includes free drink) | General $30 (includes free drink) | Students $10
CLICK HERE to purchase Thirsty First Thursday tickets.
MUMMIES OF THE WORLD (4-6PM)
Weekday Price: Adults $25 | Seniors (62+) and Students (12-17) $21 | Children (3-11) $10 | and Free for Children Under 3 when accompanied by a paid adult.
CLICK HERE to purchase Mummies of the World tickets.
TICKETS: Online or onsite. Questions? E-mail programs@bowers.org or call 714.567.3677. Proceeds benefit Bowers Museum Education Programs. Tickets are non-refundableFor additional information please visit www.bowers.org or call 714.567.3677. Program subject to change.
Contact: Victor Payan, Latino Audience Engagement Specialist, 714-567-3645, Vpayan@bowers.org