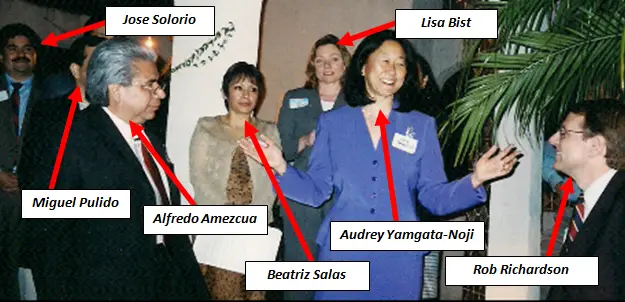 We often forget our history – and you know what that means – we are doomed to repeat it.  That cycle is happening right now, here in Santa Ana.
It is amazing to me that so many people have been completely snowed by mayoral challenger Alfredo Amezcua.  Good people that I have worked with for years actually believe his spin, that he is some kind of revolutionary.  The record simply doesn't reflect that.  Amezcua has been the ultimate city hall insider for over twenty years.
Check out the picture on top of this post.  There you will find Amezcua, celebrating the recall of SAUSD Trustee Nativo Lopez; alongside Mayor Miguel Pulido; then-Councilman Jose Solorio; then-Councilwoman Lisa Bist; SAUSD Trustee Audrey Yamagata-Noji; who is running yet again this year; and Rob Richardson, who replaced Lopez on the SAUSD Board and is still there now.
The irony, that has been lost lo these many years, is that the recall campaign didn't want to stop with Lopez.  I met today with Beatriz Salas, who is also pictured above.  She was the parent who started the recall campaign against Lopez (and she has the documents to prove that).  Salas had some very interesting things to say today about Amezcua and the rest of the recall gang.
It turns out that they wanted to recall SAUSD Trustees John Palacio and Sal Tinajero too.  Salas showed me the paperwork.  She personally stopped this from happening because she liked Tinajero.  She later befriended Palacio as well.  But had the recall junta succeeded, it is likely that they would have gone after Palacio and Tinajero too.
Palacio today is a big supporter of Amezcua, showing that even he has forgotten what almost came to pass, even though Salas told him all about it at the time.
Amezcua was the ultimate hatchet man for Pulido, in the Lopez recall.  In fact he actually terrorized an SAUSD teacher who supported Lopez.  That teacher later quit the profession, effectively hounded out of the district by Amezcua and his gang.
This is your revolutionary folks.  He was Pulido's right hand for twenty years.  The question we ought to be asking is why did he split with Pulido?
The answer may lie in Amezcua's failed bank, the Santa Ana Business Bank.  When Amezcua started that bank he went to all of his fellow Pulido cronies – and put them on his board of directors.  They included Santa Ana Chamber of Commerce President Mike Metzler; Councilman Carlos Bustamante and his twin brother; Planning Commissioner Vicky Betancourt – who was and still is Pulido's appointment to the Planning Commission; etc.  And Amezcua hit up Pulido too.  And that perhaps is where their friendship came to an end.
Pulido said no.  He rejected Amezcua's overtures.  Pulido knew something about banks, as a longtime Board member of a very successful bank in Fullerton.  Pulido thought Amezcua's timing was awful, and he said so.  He steadfastly refused to invest in Amezcua's bank.  And, as well all know, Amezcua went on to lose almost fifty percent of the money his investors entrusted to him.  He sold the bank, at a huge loss, to a group of investors from Los Angeles.
And Amezcua turned on Pulido.  He first recruited Councilwoman Michele Martinez to run against Pulido in 2008.  Amezcua told Supervisor Janet Nguyen that Martinez was his "trial balloon."  He wasn't kidding.  He used her.  When, on election night, it became clear that Martinez had lost, Amezcua was driven to Pulido's election night party, in a limo.  Just like that he tossed Martinez away.
Amezcua decided thereafter that he would run this year.
I have taken a lot of crap for siding with Pulido.  The fact is, I fought Pulido for a very long time.  Anyone in town can attest to that.  But after he beat Martinez, they ended up allying in a progressive Council majority that includes my friend Tinajero, and Councilman Vincent Sarmiento, as well as Mayor Pro Tem Claudia Alvarez.
Martinez may have lost the mayoral race, in 2008, but she ultimately won.  She moved Pulido to the left.  Together they tossed the Usual Suspects out of City Hall, except for the few that are left as Councilman David Benavides' appointments to various City Commissions.
Tinajero led the Council majority in supporting Harvey Milk Day.  Martinez joined with Pulido in rejecting Arizona's racist SB 1070.  And the entire majority has been supportive of affordable housing.  They also refused to honor Minuteman Lupe Moreno, when Benavides unwisely decided to do so.
Together they have repaved our streets and lowered crime, overall.  They are good people, that I can and do reach out to often.  When I asked them to change the free Zoo day from Tuesday to Sunday, they did it.  Now our working people can enjoy our Santa Ana Zoo for free, on a Sunday, when our residents are available to go to the Zoo.
Those of us who have been fighting and fighting against the Usual Suspects finally got what we wanted.  A City Council with a progressive majority of Latino Council Members.  And that is when Amezcua decided to declare war on Pulido.
Where was Amezcua all those years that I was fighting Pulido and the Usual Suspects?  He was on the other side.  He was no revolutionary.  It was only in 2008, that he finally came around, by supporting Martinez.  But ask her and she will tell you that in the final analysis he left her hanging.  He barely donated to her campaign.  He left his daughter Valerie hanging too, and sure enough she barely lost when she ran for the SAUSD School Board that same year.
Amezcua you see isn't for the people at all.  He is for himself.  Believe what you want to.  I know better.
I gave him a shot, last September, but not too long afterwards I attended one of Amezcua's SACReD meetings, and sure enough, there were a gaggle of Usual Suspects there, including Glen and Julie Stroud, Phil Bacerra, and Thomas Gordon.  Drive by Debbie McEwen's house, in French Park, and you will see a huge Amezcua sign in her yard.
Isn't that funny?  The Usual Suspects have turned on Pulido, and are now all in with Amezcua, even though they prefer Charles Hart.  The latter has no money and is barely running much of a campaign, so Amezcua is their only hope.
Vote for Amezcua if you want to.  But know that he has been a Pulido guy for twenty years.  He is no Che Guevara.  He is really more of a Benedict Arnold.
Let me close this post with an excerpt from an L.A. Times article, published on Feb. 8, 1993.  Check out the names in the excerpt below.  You will find Amezcua, Pulido and Metzler.  And you will note that they were fighting the same gang problems then that we still have now:
Gang violence is also a worry to Santa Ana businesses, said Michael Metzler, president of the city's Chamber of Commerce.

"Some people might say gang problems in a neighborhood don't impact businesses. It does because it impacts the city's financial needs," Metzler said. "As the cost of policing goes up, business will have to help pay, and that will make doing business more expensive."

Santa Ana City Councilman Miguel A. Pulido Jr. said he thinks the truce has decreased the level of violence, even though "it's difficult to quantify."

"I'm not saying all the problems have gone away, but there has been a general reduction in violence," said Pulido, who helped prepare a broad anti-gang program approved by the City Council in June.

With the help of Amezcua, Pulido's program came in response to a public outcry for a renewed fight against gang crime after the fatal shooting of Mauro V. Meza, a Santa Ana father of three, which shocked and angered many in the city.

Since the program's passage, the city has doubled funding for the city's after-school recreation program and increased membership on the city's Human Relations Commission to deal with youth concerns.