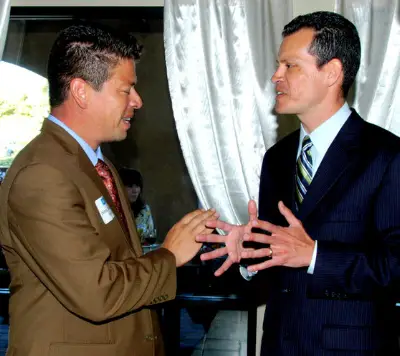 As the stumbling "Santa Ana Spring" movement continues to unimpress, it is becoming obvious that David Benavides, the bogus revolution's candidate for Mayor of Santa Ana, is going to lose on Nov. 6.  He is barely campaigning.  He is using recycled signs and he has yet to send out any campaign mailers.  His campaign appears to be centered on Facebook ads and ubiquitous blog comments by his number one supporter, Art Lomeli, a resident of Orange Park Acres.
Benavides, and his number one Council ally, Michele Martinez, were born here.  Benavides hails from East Los Angeles, according to his bio.  Martinez was raised here in Santa Ana, but apparently wasn't born here as that information is absent from her own bio.  But she most certainly was born somewhere in the U.S.
By contrast several of the current Council Members are Mexican immigrants – chief among them Mayor Miguel Pulido and Mayor Pro Tem Claudia Alvarez.  This is one of the reasons they have so much support in Santa Ana – a city dominated by Mexican immigrants and their families.  Many of these immigrants have, like Pulido and Alvarez, become citizens but they continue to value their culture and heritage.
Pulido and Alvarez speak excellent Spanish to this day.  Benavides and Martinez, on the other hand, speak Pocho Spanish.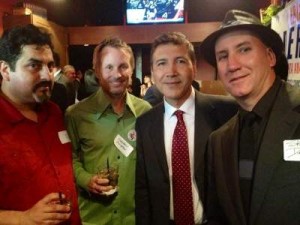 What about the other Council Members?  Vince Sarmiento was born in Bolivia.  His family came to Santa Ana in 1965, according to his bio.  Why did they leave Bolivia?  Well, the CIA was very active in Bolivia circa 1965, according to online reports, due to a leftist insurgency. Ironically Sarmiento is now part of Benavides' leftist insurgency.
Leftist?  You bet.  Benavides, Sarmiento and the rest of their "Team" have all endorsed every single tax increase on the November ballot.  Hang on to your wallets if these guys take over our City Council.  You can bet that it won't be long before they try to pass a citywide tax increase to pay for a new police contract, since the cop union endorsed Benavides.  Payback will be a b*itch, but we the taxpayers will be paying the bill.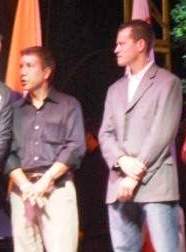 Sarmiento put up Benavides as a mayoral candidate this year knowing he would lose – with the thought that Benavides would be his trial balloon and that he would hopefully weaken Pulido so that Sarmiento can run for Mayor in 2014.  That is not going to happen, instead Benavides is going to lose badly and his entire cartel is going to be tarred in the process.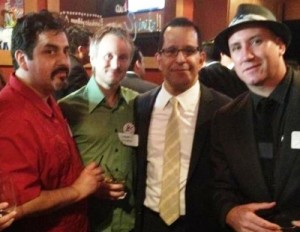 As for the other Council Members and Council Candidates in the Benavides cabal, Sal Tinajero was born and raised in Santa Ana, according to his bio.  And Council Candidate Eric Alderete was born in East Los Angeles, like Benavides.  Council Candidate Roman Reyna lists Santa Ana as his hometown, on his Facebook page.  I have not heard Alderete speak Spanish but I would imagine that Reyna, like Benavides and Martinez, is fluent in Pocho Spanish.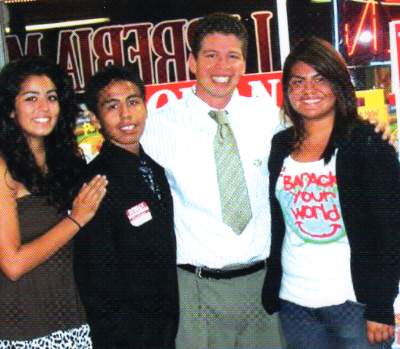 Alderete seems a bad fit for this motley crew.  He is polished while Benavides, Reyna and Martinez are very rough around the edges.  In fact we caught Reyna wearing what appears to be a clip on tie on his sole campaign mailer.
So how did Alderete end up on Team Benavides?  Simple.  He was blackmailed by Benavides' political consultant, John Palacio, an SAUSD Trustee, since 1998, who now fashions himself to be a political guru.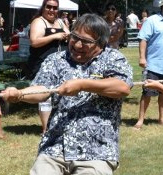 Palacio threatened to run for Ward 3 unless the City Council majority got behind Benavides for Mayor – and Valerie Amezcua for the SAUSD School Board.  Alderete should have called his bluff, but he wimped out.  A deal was cut and just like that the Council majority was stuck in a leaky boat with Palacio and the Amezcuas.  What a revolting development!
Are Benavides, Reyna and Amezcua the best that Santa Ana has to offer?  Really?  An unsuccessful realtor, a guy who has setup volleyball games throughout his adult life, and a probation officer whose father works to free the criminals she works with, as a defense lawyer?  No thanks!  We can do better.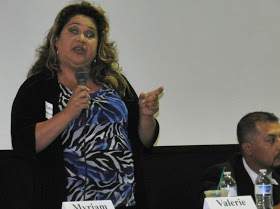 We must reject the East Los Angeles style politics of Team Benavides. We have an opportunity to choose a different path on Nov. 6.  I urge you to vote for Mayor Pulido, and for Karina Onofre – in Ward 5.  And vote for anyone for the SAUSD School Board but please don't vote for Amezcua.
Do you really want to see our city go in the direction of Vernon, Bell, Compton and Cudahay?  Really?  If yes then by all means vote for Team Benavides.  You'll get the local government you deserve.