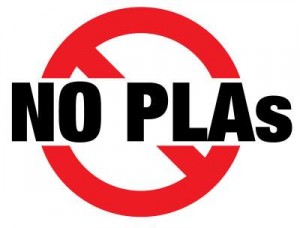 In 2003, the Rancho Santiago Community College Governing Board placed a union-crafted Project Labor Agreement (PLA) on all Measure E bond work.
Measure E had been passed by voters in 2002 with no hint of a controversial PLA would be used.
The PLA vote occurred despite vigorous opposition from local workers, taxpayers, apprentices, contractors and contractor associations. The board was told that a PLA was simply a payoff to union bosses and that it openly discriminated against the 85% of the local construction workforce that was union-free.
How do PLAs do this? PLAs force workers to pay union dues, pay into union pension plans, be hired through a union hiring hall, and explicitly forbid non-union apprentices from working at all.
PLAs are so controversial that they have been banned in 11 entities in California including the County of Orange and the City of San Diego, where just this past June residents voted 58%-42% to forbid them.
At the time of their vote in 2003 the College's own construction manager told the board a PLA would add 5-15% to the cost of any project. They were warned them of the same thing. In fact I personally testified against the PLA.  How would the PLA raise construction costs? Simple – fewer non-union shops would bid on their work with a PLA in place. Fewer bidders equals increased costs.
Last summer the most comprehensive study on PLAs ever conducted was released by the National University System Institute for Policy Research. It looked into more than 500 school construction projects throughout California and found that those districts who used PLAs added 13-15% to the cost of those projects. What that means for RSCCD's $335 million Measure E was that its value was reduced by up to $50 million.  What that means to you is that your money was wasted by the RSCCD Trustees who voted for the union-only PLA.
Now RSCCD wants another bond, this time for $198 million. The reason? Measure E wasn't large enough to cover their needs. Question: Do you think they could have used that extra $50 million they wasted under a PLA?  What could they have built with another $50 million?
Voters should seriously consider not giving this board more money until it assures them it will place workers and taxpayers ahead of union bosses.  And the last thing we should do is ever vote again for any school bond measure unless it explicitly states that no union-only PLA will ever be attached to it.