On 11/05/2021, at 1:20 AM, the Santa Ana Police Department received multiple calls regarding a male down in traffic lanes in the area of 800 S Fairview Street. Officers from the Santa Ana Police Department along with the Orange County Fire Authority responded to the scene and learned that a vehicle had struck the pedestrian. The pedestrian was declared deceased at the scene.
Based upon the preliminary investigation, it is believed that the male was in the northbound lanes of Fairview Street midblock between the intersection of McFadden Avenue, and Highland Street. The pedestrian had been struck by multiple vehicle.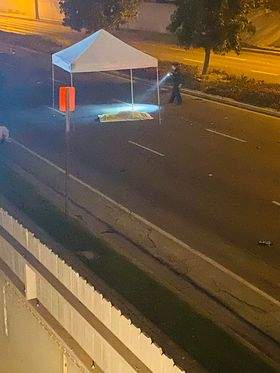 Based upon scene evidence, it is believed an early 2000's Mercedes Sedan, and a newer model Hyundai collided with the pedestrian. A third vehicle, a white Toyota Corolla also struck the pedestrian. The driver of the Toyota Corolla remained at the scene and was interviewed by officers.
Members of the Collision Investigations Unit are working to determine the cause of the collision. They are also looking to identify the drivers and vehicles, which fled the scene.
The identity of the deceased pedestrian (a male Hispanic in his 40's) has been established. His name was Arturo Quevedo.
Witnesses are encouraged to call the traffic division of the Santa Ana Police Department at (714) 245-8216.