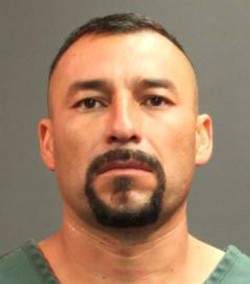 Teodoro Bernal Nunez, 39, a Los Angeles man who stabbed and kidnapped his ex-girlfriend from her Santa Ana home after killing the man she was dating, was sentenced Friday to 28 years and eight months in state prison, according to the O.C. Register.
Nunez was found guilty of second degree murder, kidnapping, domestic battery and violating a domestic order, by a jury.
The charges stem from an attack that occurred on June 18, 2016 when Nunez, who was twice convicted of domestic violence, drove to his ex-girlfriend's home to give her his pickup truck, believing he was going to be deported.
Nunez had once lived with his girlfriend in that home but on June 17, 2016, he got into a heated argument with her when he went to her home to pick up stereo cables. The police later said that he bit her on the neck and tried to pull her into his truck. He admitted to giving her an "uninvited hickey."
The police later contacted Nunez, after the biting encounter, and told him to turn himself in. That is when he opted to go back to his ex-girlfriend to give her his vehicle, according to his defense attorney.
Things got ugly however when Nunez arrived at his ex-girlfriend's home on June 18, 2016. Unbeknownst to him, his ex had taken up with a new boyfriend, Omar Castillo, 27-years-old.
Nunez got into an argument with Castillo and he then pulled out a 12-inch knife and stabbed Castillo to death. He then stabbed his ex in her abdomen. Nunez' defense attorney later argued that Nunez had stabbed her "accidentally." He then forced the wounded woman into his SUV and sped off.
Nunez did not get far. He was pulled over 20 minutes later in the City of Brea by a police officer who noted a broken tail-light on the SUV. Once they were pulled over the Brea police officer saw spotted blood on the ex-girlfriend. Nunez was then arrested.