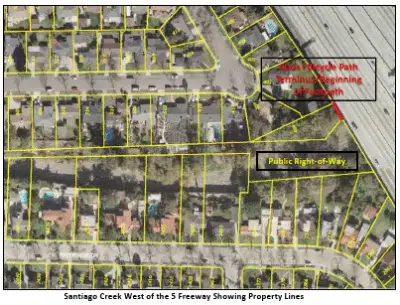 Isn't it time for Santa Ana to have a voice on the O.C. Board of Supervisors?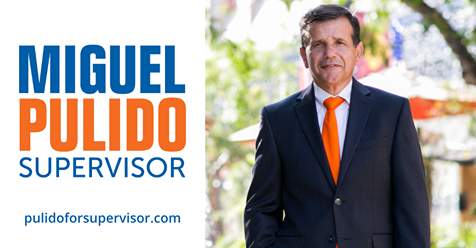 Paid for by Miguel A. Pulido for Supervisor 2020 (ID #1422663)
How will the new Santa Ana City Council deal with the uncompleted Santiago Creek Bike Trail?  The trail is complete right now – except for a "missing link" – a 1/4-mile gap located in the Santiago Creek, between the 5 Freeway underpass and Flower Street.  The City of Santa Ana does not currently have a bike trail proposed in the missing link.
A grass-roots neighborhood organization, Neighbors for the Santiago Creek Bike Trail, was formed to further the goal of a bike path in the "missing link" along Santiago Creek. Once the bike trail is completed, our neighborhoods will have ready access to adjoining trails. The Neighbors for the Santiago Creek Bike Trail want open space and the ability to connect to these outlying bike trails, shopping centers and communities either by biking, jogging or hiking.
Advertisements
Advertisement
The Two Essential Aspects to Every Personal Injury Case: Liability & Damages
If you've been injured and you're not sure you have a case, give us a call 323 746-8099. Our team at Sasooness Law Group will give your case the personal attention it deserves. We work with motorcycle accidents, car accidents, uber/lyft accidents, scooter accidents, and more.
Si usted ha sido lastimado y no está seguro de tener un caso, llamenos al 323 746-8099. Nuestro equipo en Sasooness Law Group le atenderá su caso completamente en Español. Nosotros trabajamos con accidente de auto, accidente de uber/lyft, accidentes de moto, y mas.
@ Sasooness Law Group https://www.facebook.com/SasoonessLawGroup/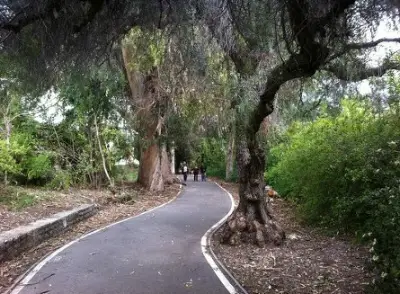 A path along the missing link will join us to the County's regional bike trails and link together four neighborhoods (West Floral Park, Floral Park, Jack Fisher Park, Morrison Park), to the neighborhoods near Santiago Park (separated by the 5 Freeway) along the Creek.
There are signs that new Ward 3 Council Member Angelica Amezcua is open to the idea of completing the bike trail.  And Mayor Pro Tem Claudia Alvarez, who opposed the trail's completion while trying to get elected to the Rancho Santiago Community College District's Board of Education, is leaving the City Council.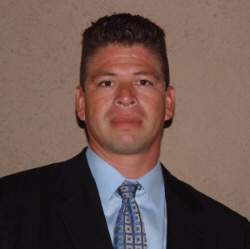 Will Alvarez' replacement, Roman Reyna, do the right thing and support the completion of the Santiago Creek bike trail?  Reyna has worked at Santa Ana's Parks and Recreation Agency, and at the Santa Ana Boy's and Girls Club and the Santa Ana YMCA.  He is currently an SAUSD Trustee.  You would think that he would support the bike trail as it will be a boon to our youth, to the overall fitness of our residents and to the families who will enjoy using this trail.  Hopefully he will not side with NIMBY Mark McLoughlin, who publicly opposed the bike trail and then lost to Alvarez on Nov. 6.
What about the returning Council Members?  Vince Sarmiento barely beat Amezcua's sister, Estela.  Hopefully he now realizes that he needs to side with the majority in our city – not with the NIMBYs.  I don't know where Mayor Miguel Pulido stands on this issue but he has always supported our youth and health in general.  And Council Members Michele Martinez and Sal Tinajero have too.  Thankfully the King of the NIMBYs, disgraced Council Member Carlos Bustamante, is leaving the Council.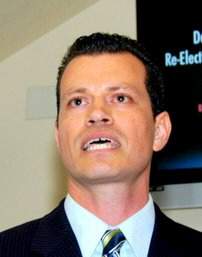 What about Council Member David Benavides, who had his head handed to him by Pulido?  Hopefully Benavides will do the right thing with regard to the Santiago Creek bike trail, even though he has been allied with the Usual Suspects and the NIMBYs for years.  He needs to start healing the divisions he caused during his failed campaign against Pulido.  Supporting the bike trail's completion would be a good start.
If the Santa Ana City Council Members decide to oppose the completion of the Santiago Creek bike trail they are going to be in for a rude awakening.  Benavides, Martinez, Tinajero and Pulido should remember that they will each be up for re-election in two short years.
Click here to find out more about the Santiago Creek bike trail.