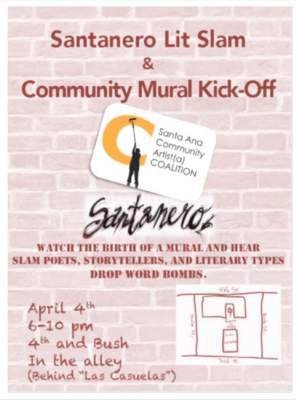 FOR IMMEDIATE RELEASE: March 30th 2015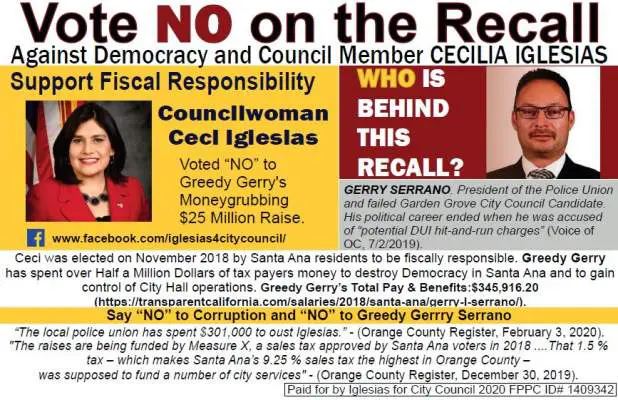 Contact: Alicia Rojas, Santa Ana Community Artist(a) Coalition, artistacoalition@gmail.com or 714-907-5468
Isn't it time for Santa Ana to have a voice on the O.C. Board of Supervisors?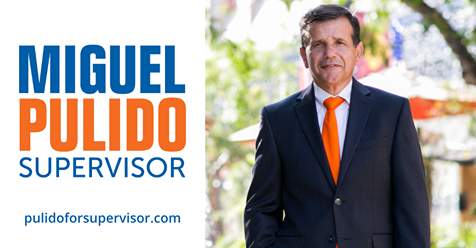 Paid for by Miguel A. Pulido for Supervisor 2020 (ID #1422663)
SANTANERO ZINE and the SANTA ANA COMMUNITY ARTIST(a) COALITION will be hosting the first Art Walk at the Art Alley /Callejon de Arte!
Advertisement
Is your employer a mess? Call Sasooness.
In the state of California for every 5 hours worked an employee must get a 30 minute, uninterrupted lunch break. For every 3 hours worked an employee must get an uninterrupted 10-minute rest break. Working over 8 hours in a day or 40 hours in a week is due overtime. Don't let your employer screw you! Give us a call at 323 746-8099.
En el estado de California por cada 5 horas de trabajo su patrón le debe permitir tener un receso de media hora sin interrupciones. Si trabaja más de 8 horas en un día o más de 40 horas de trabajo en una semana su patrón le debe pagar tiempo y medio. No deje que su patrón abuse de su trabajo. No importa que no tenga papeles. Usted tiene derechos. Llamenos al 323 746-8099.
The SANTANERO Lit Slam and Community Mural Kick off!
The Art Alley is located in *Downtown Santa Ana behind La Calle Cuatro / 4th St. In between Bush and Main*
SATURDAY APRIL 4th from 3:00PM – 10:00Pm
Community Artist(a)s will be creating temporary murals in preparation of the next big Community Mural. Hear the voices of the Community and their input about what kind of public art they would like to see go up in their City walls!  Hear slam poets; storytellers, and literary types drop word bombs!
This is the FIRST of many community engagement events the Santa Ana Community Artist(a) Coalition will be hosting in the Art Alley during the duration that it takes to complete a permanent Community Mural!
Why is this mural important? As Downtown Santa Ana continues to undergo a number of important transformations, it's essential that local residents and businesses take a role in the process and express their voices about the future of their city. With art taking an increasingly significant role in that future, art can serve as a powerful vehicle for community expression. Furthermore, the art creation process can be used to engage different communities, connect people, and actively participate in helping to change our community in the ways we want it to see it change.
HOPE TO SEE YOU THERE! NOS VEMOS!
Facebook: TheCoalition
Website: http://sacommunityart.wix.com/thecoalition