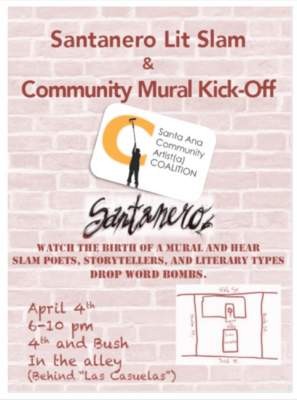 FOR IMMEDIATE RELEASE: March 30th 2015
Contact: Alicia Rojas, Santa Ana Community Artist(a) Coalition, artistacoalition@gmail.com or 714-907-5468
SANTANERO ZINE and the SANTA ANA COMMUNITY ARTIST(a) COALITION will be hosting the first Art Walk at the Art Alley /Callejon de Arte!
The SANTANERO Lit Slam and Community Mural Kick off!
The Art Alley is located in *Downtown Santa Ana behind La Calle Cuatro / 4th St. In between Bush and Main*
SATURDAY APRIL 4th from 3:00PM – 10:00Pm
Community Artist(a)s will be creating temporary murals in preparation of the next big Community Mural. Hear the voices of the Community and their input about what kind of public art they would like to see go up in their City walls!  Hear slam poets; storytellers, and literary types drop word bombs!