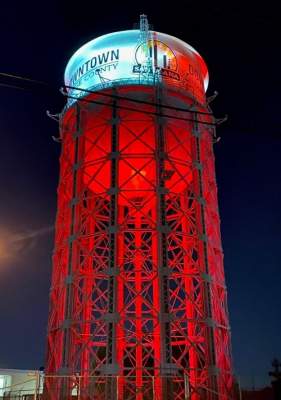 The City of Santa Ana has illuminated the Santa Ana Water Tower and is placing messages on digital marquees and other locations to congratulate the Class of 2020.
The iconic Water Tower is lit up in red and white, the official colors of Santa Ana Unified School District, the city's largest school district. Additionally, the City is placing congratulatory messages to honor graduates from all local schools and districts on digital marquees at MainPlace Mall and other locations as well as on bus shelter posters.
"The City of Santa Ana is proud to recognize and congratulate our local 2020 graduates through these displays," Mayor Miguel A. Pulido said. "The pandemic has interrupted all of our lives, but it is important that we observe this momentous occasion for our local youth and their families."
Santa Ana Unified School District recently launched a multifaceted campaign honoring the Class of 2020 by blanketing the community with thousands of physical and digital tributes. These include billboards, lawn signs, posters and banners, some of which the City of Santa Ana is placing on medians and elsewhere.
The District will celebrate graduates with virtual, prerecorded ceremonies to air on Spectrum Channel 31, AT&T Channel 99, on SAUSD's YouTube channel and on www.sausd.us in the coming weeks.