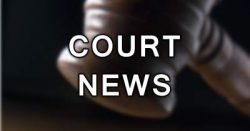 Braulio Victorio Hernandez, a 30-year-old man, pleaded guilty Monday and was immediately sentenced to 17 years in prison for two separate attacks on SAPD police officers over two months last summer, according to NBC.
Hernandez admitted to a number of felonies, including four counts of resisting arrest, two counts of battery on a peace officer, a count of assault with a weapon on a peace officer, and a count of battery.
Hernandez also plead guilty to several misdemeanors including three counts of resisting arrest, a count of unlawful entry of a noncommercial dwelling, a count of possession of drug paraphernalia, and a count of possession of a drug.
Hernandez' long list of crimes included sentencing enhancements for committing a crime while out on bail on another case.
Hernandez's legal problems began back on July 15, 2018, when SAPD police officers responded to a dwelling at the 800 block of South Orange Avenue regarding a fight between the Hernandez and his ex-girlfriend. The area residents told the police officers that Hernandez was high on drugs and they wanted him to leave, but he had refused.
When the police officers arrived Hernandez immediately got into a fight with them and tried to grab at their guns. Then the police tried to stop him by using a stun gun but he ended up on the roof of another house. Police again tried to subdue him by using a stun gun but he continued to resist, according to the SAPD.
More police officers responded and they were ultimately able to arrest Hernandez, who of course was found to be in possession of Meth.
Hernandez was booked but then he was released after he posted a posted $25,000 bail on July 24, 2018.
On Sep. 8, 2018, it hit the fan again as the police were called by the family of a former girlfriend of Hernandez about a disturbance he had caused.
This time when the police officers arrived at the scene they found Hernandez in a car with his ex-girlfriend. He jumped out of the car and immediately rushed the police officers. He ended up gouging an officer in the eye and that policeman had to go to a local hospital for treatment.
Hernandez also tagged a police camera with graffiti while he was in custody after his second arrest in September.