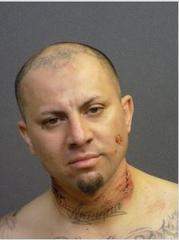 Yesterday, May 7, 2019, a detective at the Costa Mesa Police Department (CMPD) observed a suspicious man that appeared to be bleeding while holding a knife, walking toward the front doors of the PD. The detective walked over to make contact but the man fled on a bicycle eastbound toward Newport Boulevard. At about 1:37 p.m, officers nearby approached the area and the suspect ran into the Regency Inn lobby. It was reported that the man was bleeding from the arm, had made suicide threats, and was armed with a knife and a gun.

The suspect, later identified as David Abraham Deleal, 38, Costa Mesa, barricaded himself inside a room close to the lobby on the first floor. During that time, CMPD's SWAT and its Crisis Negotiations Team, and Costa Mesa Fire & Rescue responded to the scene. Deleal caused a fire and smoke was seen coming from the room but Deleal extinguished the fire shortly thereafter.

CMPD evacuated the motel and set up a perimeter blocking Newport Boulevard northbound. Officers on the Crisis Negotiations Team made contact with Deleal and kept an open line of communication with him to resolve the incident safely and without harm to anyone. During the incident, Deleal broadcasted publicly for a short period of time on social media while holding what appeared to be a firearm.

At 6:57 p.m., Deleal came out of the Regency Inn and officers took him into custody. He was found to be in possession of a knife and a firearm, which was later confirmed to be an imitation firearm. Deleal was transported to a nearby hospital to be treated for self-inflicted wounds. He was subsequently released and booked on arson in an inhabited structure, battery against an officer, vandalism causing damage to property, exhibiting an imitation firearm in the presence of a peace officer, trespassing for refusal to leave the motel, and obstruction.