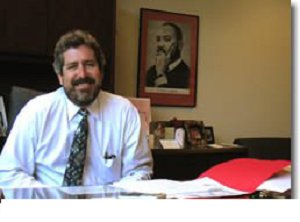 Another year, another new Principal at Santa Ana's Valley High School.  But this time they finally hired a guy that might get the job done.  Patrick D.Yrarrazaval-Correa transferred to Valley from Carr Intermediate, where he had some success.  Now he is being tossed into quite a mess.
Yrarrazaval-Correa brought along many key members of his staff from Carr.  But when I tried to click on his name, and the names of his staff members, over at Valley's website, I got nothing but dead links.  I hope that is not a precursor of things to come!
Yrarrazaval-Correa is also a member of the Santa Ana Planning Commission.  He is an affable sort and he likes to ride a Harley in his spare time.
Yrarrazaval-Correa's predecessor at Valley, Felicity Swerdlow, resigned on April 12, kicking off a mass protest by students.  About 500 students ran amok when Swerdlow announced her resignation, according to the O.C. Register.  Why she left is a mystery, but I am told she was a first-time principal and she got tired of commuting from Pasadena.
Valley High School has a unique partnership with the Santa Ana Chamber of Commerce, which has resulted in the creation of High School, Inc., and the implementation of seven Career Academies supporting high-growth industries in Santa Ana – Automotive & Transportation, Culinary Arts & Hospitality, Engineering & Construction, Global Business, Health Care, Manufacturing, and New Media.
But Valley, under Swerdlow, was ranked 63rd out of 65 high schools, according to the O.C. Register.  While the average graduate rate in Orange County is 81.7%, it is only 67.2% at Valley – with a dropout rate of 23.2%, according to the O.C. Register.  In Santa Ana, only Saddleback High has a lower graduation rate – 64.6%, but Valley has the highest dropout rate of any Santa Ana high school.
Will Yrarrazaval-Correa prevail?  I don't know, but I do know that the SAUSD is in even more hot water – the millions they accepted in SIG (School Improvement Grants) back in April of last year are now in doubt as apparently SAUSD school administrators screwed up again – this time they failed to comply with parts of the SIG contract, according to an insider at the district.  I am told that SAUSD administrators are scrambling to produce enough school classroom hours to keep the SIG money.  Everything is on the table, including the possibility of working through the Spring Break.
Good luck to Yrarrazaval-Correa.  He will need it.