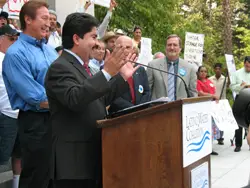 Assemblyman Jose Solorio's Communication Director, Carol Chamberlain, contacted me today with news that Solorio had in fact responded to mounting criticism of his proposed bill, AB 350, in a letter sent to the Sacramento Bee.  I am reprinting that letter below.
AB 350 Provides Fairness for Low Wage Workers
By: State Assemblyman Jose Solorio, Anaheim
The Bee editorial, Union Bill would tie hands of employers, misses the mark, includes factual errors and is biased. Anyone knowledgeable of AB 350 and who read this opinion would recognize the voice of the highly financed, anti-union alliance feeding inaccuracies to a welcoming Bee editorial board and other newspaper boards throughout the state.
The point of this legislation is simple fairness. Janitors already are afforded the common decency of a notice when a building maintenance job may be in peril. AB 350 simply adds a few other job classifications of those who work side-by-side with the janitors and should be entitled to the same courtesy. Professional workers receive advance notice before being laid off; lower wage workers should receive similar consideration. Besides, any business owner who secures a new contract will need to hire to fulfill the needs of that contract. Why not give the current workers a chance?
Times are tough. Property service workers like janitors, window washers and security service workers are vulnerable as they barely eke out a living. Is it too much to give them fair warning of a possible layoff? Is it too much to offer them a chance to prove worthiness to the new company during a short transition timeframe?
I imagine many workers at the Bee have never encountered a layoff without notice, severance, insurance extensions and job placement services. But the workers affected by the provisions of AB 350 work day to day not knowing if the next day will be their last. They deserve a chance to prove they can do their job. They deserve the protection of AB 350.
And here is the Sacramento Bee editorial that Solorio was reponding to:
Editorial: Union bill would tie hands of employers
If you read Santa Ana Democratic Assemblyman Jose Solorio's explanation of his legislation, the very controversial Assembly Bill 350, it's all about trying to help low-wage workers keep their jobs in this tough economy.
Don't be fooled. It's really about helping the sponsor of the bill, the Service Employees International Union, retain union membership and improve its bargaining position.
The bill requires employers who win new contracts for building services – including janitorial, maintenance, security, window-cleaning and cafeteria services – to hire and retain the previous contractor's employees for three months. If the employees' work is satisfactory during that 90-day period, the new employer would be required to keep them on.
This is an unreasonable, unfair and unnecessary constraint on business. It would essentially dictate to an employer what his work force would be. Under this bill, the new employer would not be able to interview or conduct a background check of the retained workers before taking responsibility for them. Any business – a hospital or a hotel operator, for example – unhappy with the company that provided security or window cleaning previously, could contract with a new company but would still be stuck with the same work force it had sought to replace.
Existing law calls for a 60-day retention period for janitors and maintenance workers. This measure expands the type of workers who would have to be retained by a new contractor or even a new building owner – adding security guards, window cleaners and food-service employees.
It then tacks on another month to the time the new contractor or building owner would have to keep the old contractor's workforce in place.
Finally, it bars the new employer from firing the retained worker unless the employer can show specific incidents in which the retained worker's performance was unsatisfactory.
The real impetus behind this bill is the SEIU. Because it would require that existing union workers be retained, it would also keep in place a union contract even if a non-union contractor was taking over the service. The union thereby wins recognition automatically – not at the bargaining table, but by virtue of state law.
This bill was introduced twice in recent years and twice vetoed by then-Gov. Arnold Schwarzenegger. This year's version of the measure is flying through the Legislature, mostly along party-line votes with most Democrats loyally lining up behind their labor union allies.
The test here is whether the new governor will do what's both right and fair for California.
The right of employers to choose their own workers should be basic. In service employment, in particular, the workforce is the business. An employee's work ethic, demeanor, energy level and honesty matter.
To require an employer to take on a workforce that is not their own, one that the business owner has not been allowed to vet, is just plain wrong.