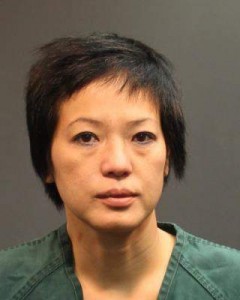 ORANGE COUNTY DISTRICT ATTORNEY PRESS RELEASE
Case # 15CF0089
Date: April 10, 2015
WOMAN TO FACE TRIAL FOR REPEATEDLY THROWING GLASS BOTTLES AT STATUES IN FRONT OF BUDDHIST TEMPLE
SANTA ANA – A woman is scheduled to face trial for repeatedly throwing glass bottles at statues in front of a Buddhist temple. Trang Thu Pham, 45, Santa Ana, is charged with one felony count of vandalism of a religious property, and one felony count of vandalism with damage of $400 or more. If convicted, she faces a maximum sentence of three years in state prison. Opening statements are scheduled to begin Monday, April 13, 2015, at 9:00 a.m. in Department C-29, Central Justice Center, Santa Ana.
Between Nov. 25, 2014, and Jan. 7, 2015, Pham is accused of throwing and smashing glass bottles on several religious statues outside of the Huong Tich Buddhist Temple (HTBT) in Santa Ana. On 10 separate days, HTBT employees noticed the broken glass and damage to the statues and contacted the Santa Ana Police Department (SAPD), who began investigating this case. The defendant was observed on surveillance cameras on three separate days throwing numerous bottles at the temple statues.
On Jan. 15, 2015, an employee at a Rite Aid store in Costa Mesa contacted the Costa Mesa Police Department (CMPD), when he noticed the defendant and believed her to be a match to the HTBT surveillance footage that had been released to local media. CMPD arrested the defendant later that day. SAPD investigated this case.
Deputy District Attorney Don Marc Dimaranan of the Felony Panel is prosecuting this case.
###
TONY RACKAUCKAS, District Attorney
Susan Kang Schroeder, Chief of Staff
Office: 714-347-8408
Cell: 714-292-2718