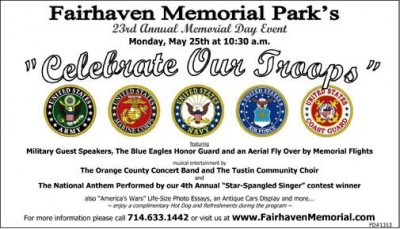 "Celebrate Freedom": Fairhaven Memorial Park's 23rd Annual Memorial Day Service set for May 25
More than 3,500 Orange County residents are expected to "Celebrate Freedom" with Fairhaven Memorial Park & Mortuary at its 23rd Annual Memorial Day Service on Monday, May 25 at 10:30 a.m. Attendees will enjoy inspiring speeches by military veterans, a "Parade of Flags" by The Tustin Young Marines, the Boy Scouts of America and the U.S. Naval Sea Cadet Corps, and music by the Orange County Concert Band and the Tustin Community Choir. The event will begin with a special performance of the National Anthem by the "Star Spangled Singer" contest winner and conclude with an aerial fly-over of World War II-era planes by Memorial Flights.
This celebration of patriotism will also feature an antique cars display, "America's Wars" life-sized photo essay and more. Complimentary hot dogs and refreshments will be served.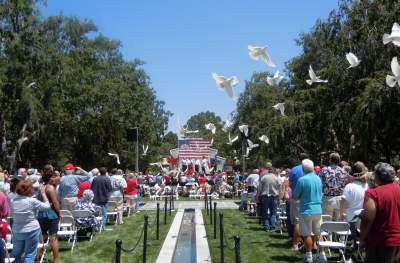 Location: Fairhaven Memorial Park, at 1702 E Fairhaven Ave., Santa Ana, CA 92705
Date and Time: Monday, May 25, 10:30 a.m. – 12 p.m.
Cost: Free
Event Contact: Cynthia Adair, 714.532.8921 ext. 289, cadair@fairhavenmemorial.com
###