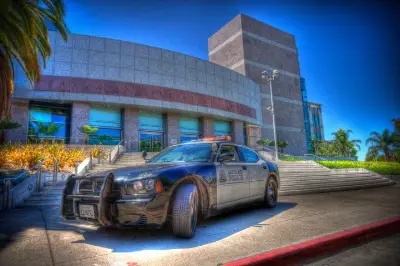 Will Santa Ana lose its police department or file for bankruptcy?
By: Shane Ramon Barrows, City of Santa Ana, Ward 3 Candidate
The City of Santa Ana is in financial crisis. Even though the city leadership states that we have a balanced budget, the fact of the matter is that the current "balanced budget" is nothing more than basic accounting gimmicks. The truth will come out after the November elections. A review of the budget details shows the overly inflated fluff revenues that the city is expecting this year. These revenues include a 74% increase in building permits ($680K), a 40% increase in traffic fines ($120K), an 11% increase in Hotel Visitor taxes ($747K), a 223% increase of city property rentals ($230K) and a 63% increase on earnings from investments ($200K). Those assumptions account for nearly $2 million of the city's projected revenue.
What happens when those forecasted revenues don't materialize? The city has to make cuts in expenditures or file for bankruptcy. We have already lost our fire department, after they served our city for 128 years. We have lost our parking enforcement and street sweeping to private firms. We barely have any parks and recreation staff to maintain and staff our parks. We have very few code enforcement officers to enforce city regulations and codes.
The only department that has been untouched is the police department. The police department is currently understaffed by 94 officers. We are supposed to have 404 officers, but currently only have 313. I believe we need to keep and fully staff our police department, but where will the money come from? Santa Ana is not known as a business friendly city and the federal and state grants that we have depended on for so long are now gone. What will the city leaders do to close the gap? Bankruptcy or will they contract out police services?
Of course no one wants to talk about the nearly $1.5 million that the city donated to the Bowers Museum this year. That's political back room favors at work. The city also donated $1.8 million to Bowers in 2011/2012 and another $1.5 million in 2010/2011. A total of close to $4.8 million over the last three years. Could all of that money been used for police, firemen, parks, and schools? Of course it could have, but then the Bowers Museum would have been upset, and we can't have that.
Santa Ana must immediately decrease its expenditures and use realistic revenue projections if the city is to remain solvent. If not, we will be the latest city to file for bankruptcy in the state.