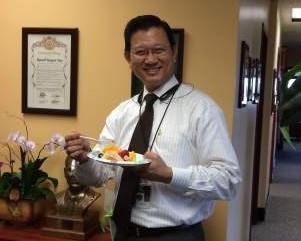 Why has Orange County Supervisor Andrew Do, who represents the First District (which includes much of Little Saigon and Santa Ana) refused to promote the new app that allows his constituents to review restaurant health inspection records on their smart phones?  Look for yourself.  There is no mention of the app on Do's official website.
Today the O.C. Register published an editorial column by Do where he once again argues against letter grade health ratings and he dredges up a bunch of lame excuses against letter grades.
Why is Do so opposed to letter grade health ratings for restaurants?  Well perhaps he thinks we have forgotten that just a few years ago he and then Supervisor Janet Nguyen's husband, Tom Bonikowski, were the co-owners of a filthy Lee's Sandwiches in Stanton that received a ton of health violations!
At the time Nguyen was the key vote against letter grade health ratings – and she did not tell anyone that Do, who was her Chief of Staff at the time, and her hubbie were in cahoots together and their restaurant was a train wreck.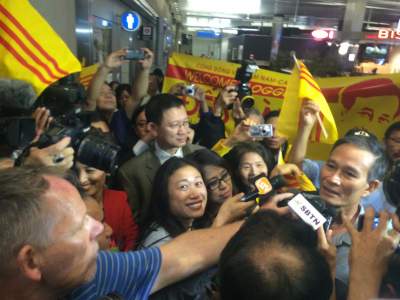 I also found out at the time that Nguyen had accepted over $20K from owners of restaurants with awful health records.  She also regularly hosted political events at the Azteca Restaurant in Garden Grove, which ironically was shut down temporarily for a roach problem a month before she launched her 2014 State Senate campaign at that location.
You want to know the truth about letter grade health ratings for restaurants? Ignore what Do says and check out what our own Orange County Grand Jury said about them in a report a few years ago:
While most Orange County residents are in the dark about the quality of their local restaurants, our neighbors to the north, south and east have all implemented an ABC grade-card inspection system informing customers about the cleanliness of the restaurant in which they dine. Residents of those counties get to choose whether to go to a C-grade restaurant, or an A or B-rated restaurant instead, where they may feel safer about what they are eating or drinking.

Studies of the 10-year-old system in Los Angeles County have concluded that the implementation of an ABC grading system has caused a significant reduction of foodborne-illnesses that cause hospitalization. Even better, the level of restaurant sanitation in Los Angeles has dramatically improved as restaurant owners seek to have cleaner restaurants to attract more patrons. Those restaurants with an A grade have increased their revenue, while C-grade restaurants have either cleaned up their establishments or closed – a win either way for the consumer.

Consumers in Los Angeles County, and in almost all other counties in southern California, in Las Vegas, North and South Carolina, Tennessee, Toronto and even those as far away as Singapore are protected by and have given overwhelming praise to on-site notification for diners through the use of a grade-card system.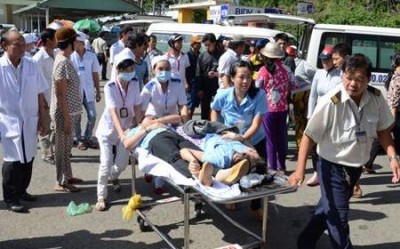 Could it be that Do brought his negative attitude about food safety with him from his homeland – Vietnam?
Consider what Vietnam News had to say on this subject in a post dated June 18, 2014:
The Ministry of Health's Viet Nam Food Administration has announced that 24 people have died from food poisoning nationwide so far this year. Among the deaths, 12 were linked to poisonous mushrooms and the 12 other cases were due to other causes including blowfish, surf clam and cicada, said deputy director of the administration Nguyen Thanh Phong.

The death toll was also 41 per cent higher than the same period last year, Phong added. In addition, the number of food poisoning cases had increased 15.4 per cent from 2013, he said.
A more recent article in Than Hien News, dated April 7, 2015, stated:
Rapid economic development brings challenge to ensuring food safety in Vietnam where more than 5,000 people were affected by food poisoning last year, according to the World Health Organization. According to WHO, 80 percent of the victims of food poisoning in the country were hospitalized and 43 died.