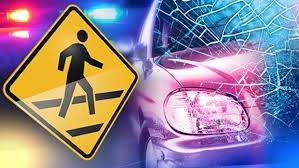 Santa Ana Police Department
Advisory: SAPD Traffic Unit Investigate Fatal Collision-Vehicle vs Pedestrians
Deceased Pedestrian – Margarita Hernandez (85) of Madera, California
SAPD was informed by the Orange County Coroners Office that 85 year old Margarita Hernandez of Madera, California was removed from life support and died earlier today
On Saturday, July 25th, 2015 at 12:18 p.m., patrol officers along with the Orange County Fire Authority responded to a traffic collision at Center St. and McFadden Ave. (southwest corner of Jerome Park). Initial reports indicated that the vehicle struck two pedestrians.
Two female pedestrians were located lying on the roadway and they were transported to a local hospital. The first female sustained abrasions and a laceration to her face. The second female sustained severe injuries from the collision.
Based on statements obtained at the scene, the females stepped off the southeast corner and proceeded to walk north in the crosswalk across McFadden Av. As the pedestrians crossed the street, a female motorist driving a silver Nissan Frontier drove south on Center St. and made a left turn on McFadden Av. During the turn, the motorist struck the pedestrians.
The licensed driver remained at the scene and cooperated throughout the investigation. Alcohol and/or drugs were not a factor
Any witnesses or person with information on this collision are asked to contact Santa Ana Police Department, Corporal Wharton at (714) 245-8209.
###