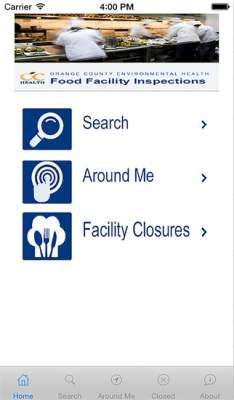 NEW 'OC FOOD INSPECTIONS' APPLICATION PROVIDES ACCESS TO RESTAURANT INFORMATION ON MOBILE PHONES
(Santa Ana) – The Orange County Health Care Agency Environmental Health Food Program has introduced the OC Food Inspections application. Available for Android and iPhone, this easy to use application gives the public instant access to food safety and sanitation information for Orange County's restaurants and markets.
"We are very pleased to offer this improved level of transparency," said Mark Refowitz, Health Care Agency Director. "While restaurant inspection information has always been available on our ocfoodinfo.com web site, the OC Food Inspections app puts all of the available information for a restaurant or market right in the palm of your hand."
The application provides not only the current inspection status but everything else the public needs to know about a restaurant or food facility anywhere in the county. The application allows users to search for favorite restaurants, search for nearby food facilities, see all facilities that are currently closed, view inspection reports and even receive inspections reports via email.
For more information about the OC Food Inspections application and to download the app, visit www.ocfoodinfo.com.
# # #